Women are fond of always looking gorgeous by opting for various ways to enhance their beauty.
Thus leg tattoos for women are trending nowadays to let her beautify the thigh, knees, and lower part of the leg.
Women's tattoos like a tribal, dragon, full leg, religious, and others are the most favourite designs to have in small to big sizes on the leg.
Are you also wondering about getting a beautiful and colourful leg filled with artistic touch?
If yes, then let us scroll you through the ultimate collections of the best designs of leg tattoos for women with meaning.
You can even bookmark this page to save the best leg tattoo design that wins your heart.
But wait.
Before jumping to the list of amazing leg tattoo designs for women, let's go through some facts.
It will help you to have a meaningful and pleasant tattoo on your leg with some precautions beforehand.
16 Best Leg Tattoos For Women Designs With Meaning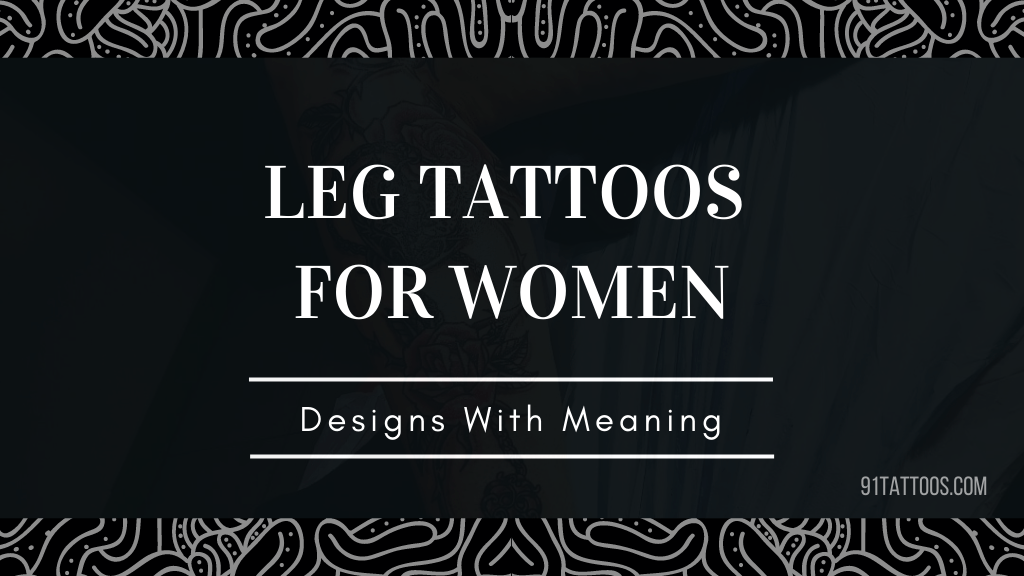 1] Flower And Butterfly Leg Tattoo Design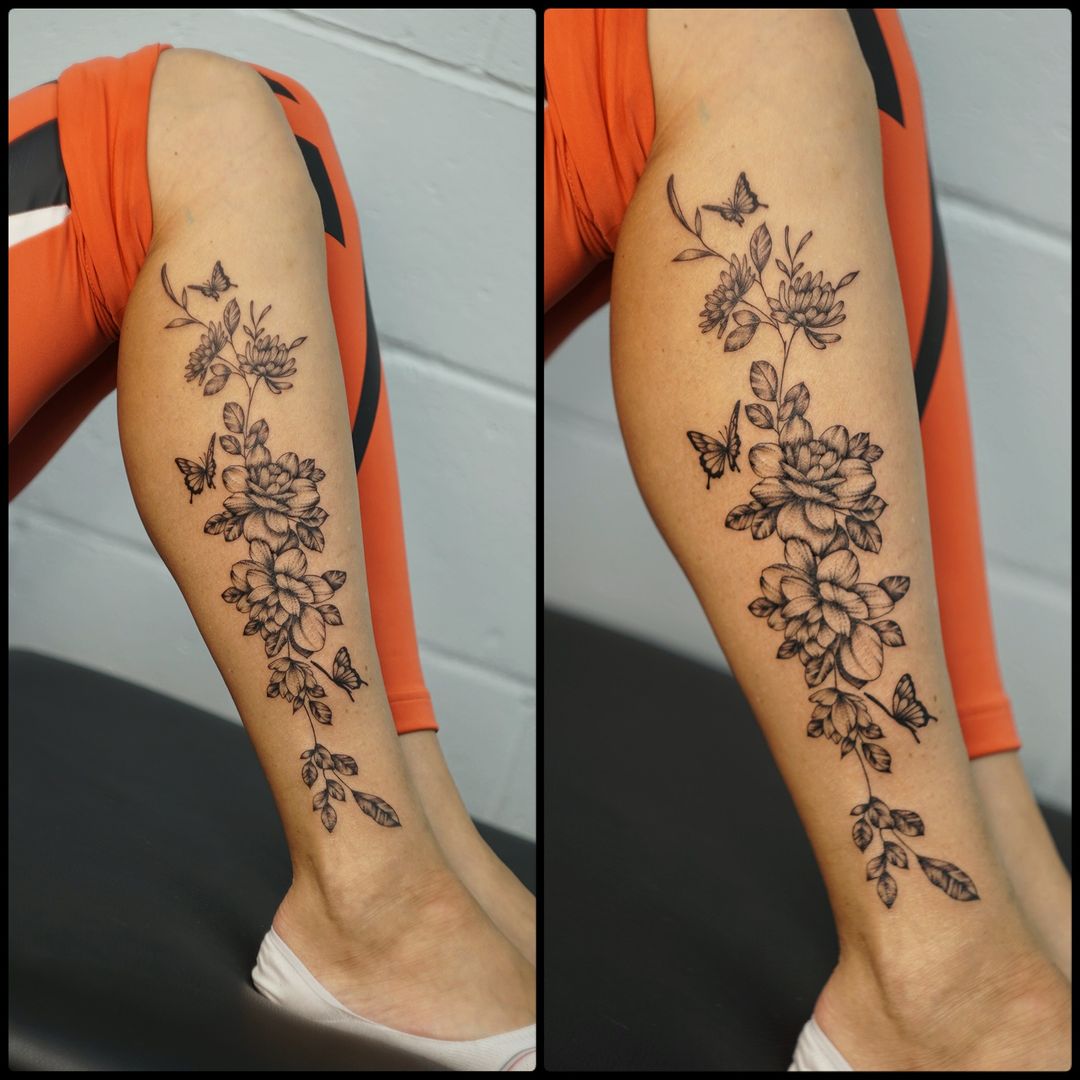 The combination of flower and butterfly leg tattoo designs for women is a popular choice among women because it gives an aesthetic appeal and has a symbolic meaning.
This combination tattoo denotes feminity, nature, beauty, transformation, and growth which makes it one of the best designs to be inked on the leg for women.
2] Mandala Floral Art Tattoo Design For Leg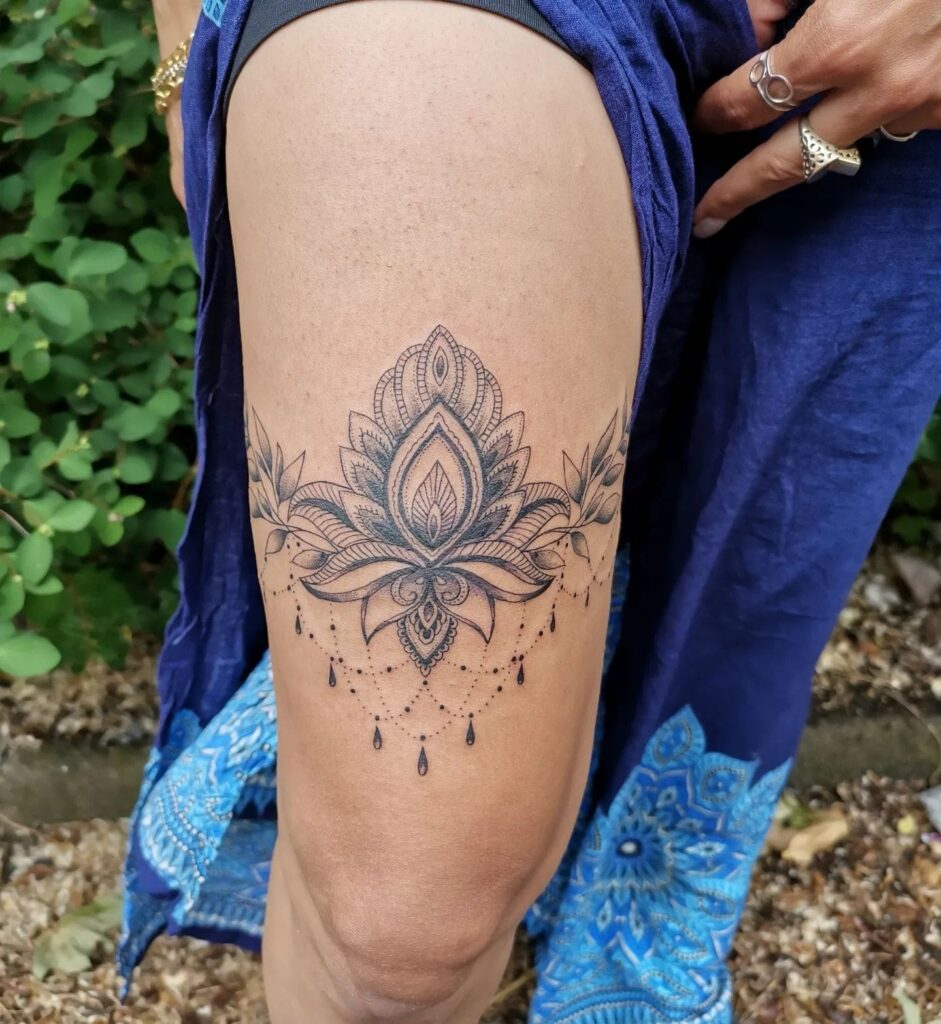 Mandala art leg tattoos for women are both visually appealing and attractive and also have a spiritual symbolism.
Hence, making it a must-add tattoo on the list that most women want to get inked.
These tattoos are a symbol of balance, harmony, and wholeness.
So, women can have this tattoo on their legs if they are looking for something that is beautiful and meaningful at the same time.
3] Flowery Dagger Leg Tattoo Design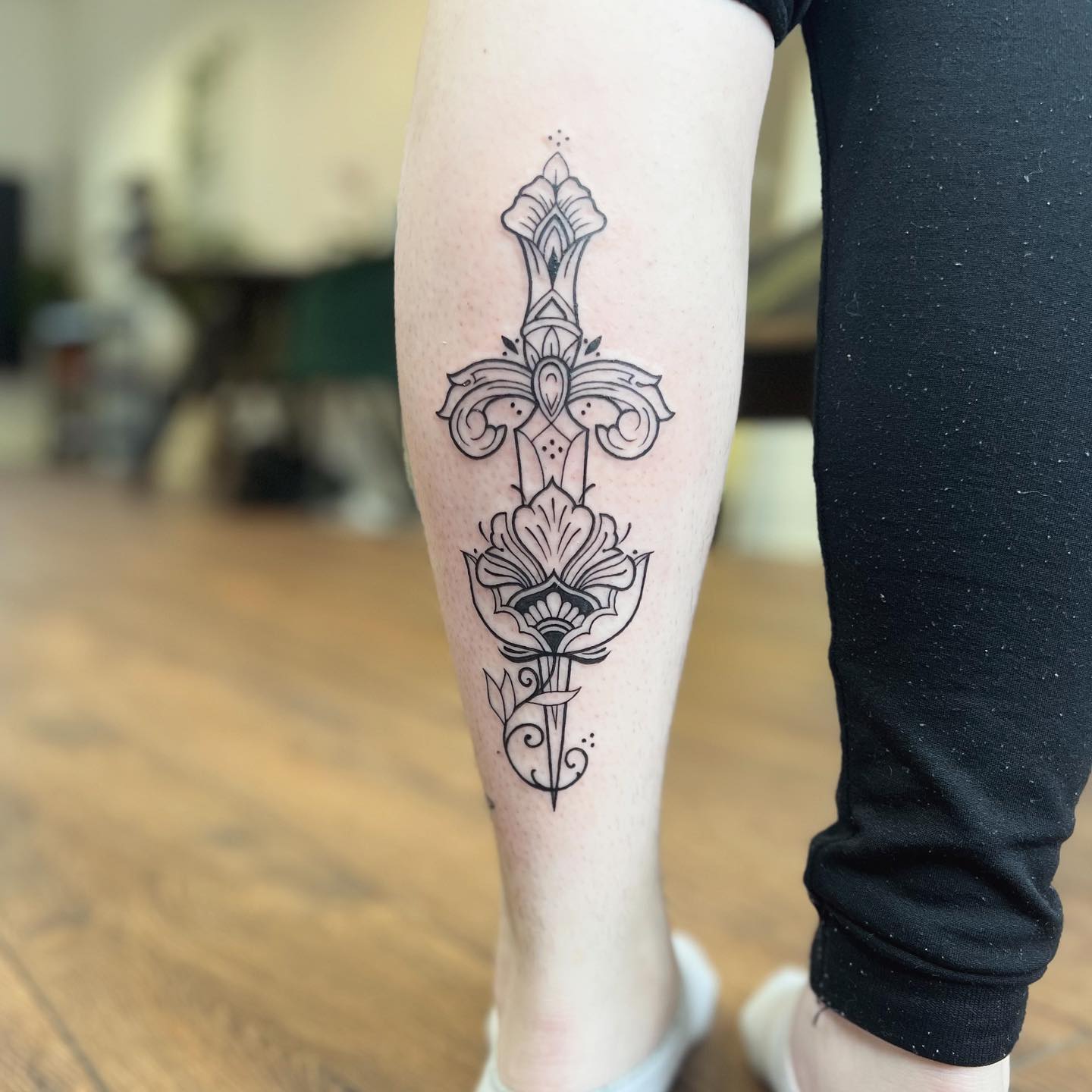 A woman is very soft on the inside, and she always finds a way to protect herself from danger.
You can say that a woman is soft-hearted but can be destructive when the situation calls for it.
Hence the flowery dagger leg tattoo designs for women is perfect for those who know how to deal with difficulties and turn their losses into an opportunity.
4] Multiple Miniature Leg Tattoo Designs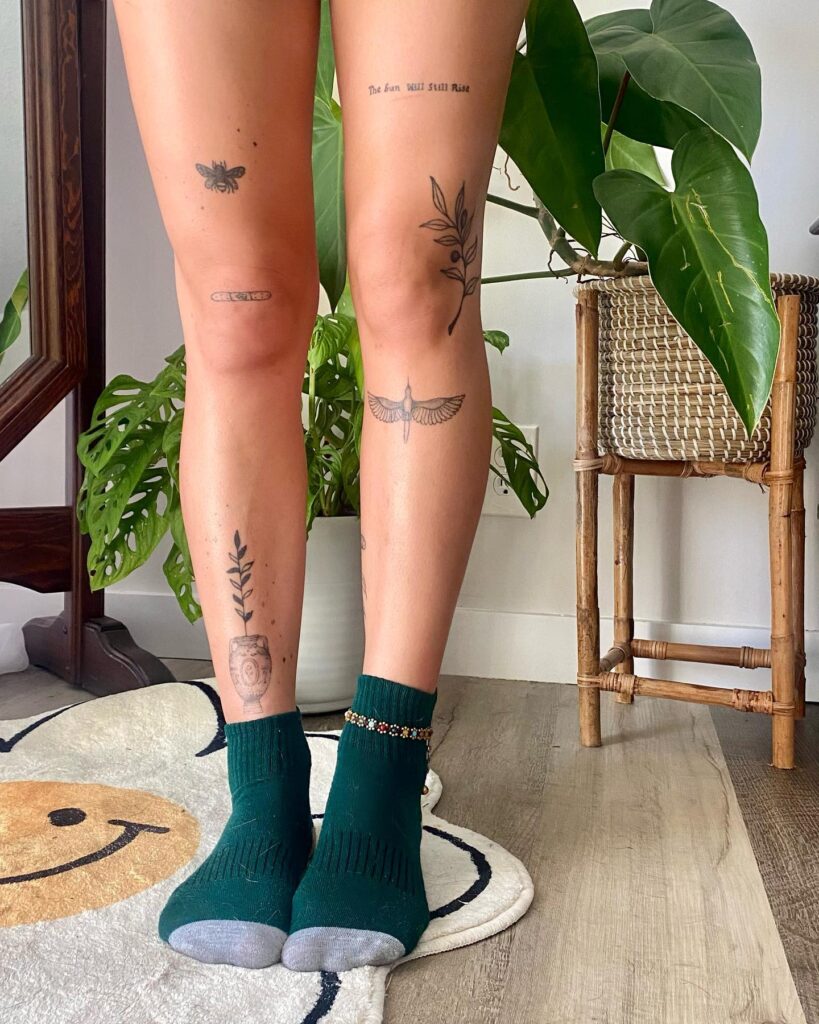 Getting multiple miniature leg tattoo designs for women is a way for them to self-express as well as commemorate the special events and dates of their lives.
There are multiple mini elements, such as leaves, flowers, birds, Roman numerals, quotes, etc., that can be inked on legs to denote different things at a time, depending upon the individuality of the person.
5] Amazing Chinese Dragon On Leg Tattoo Design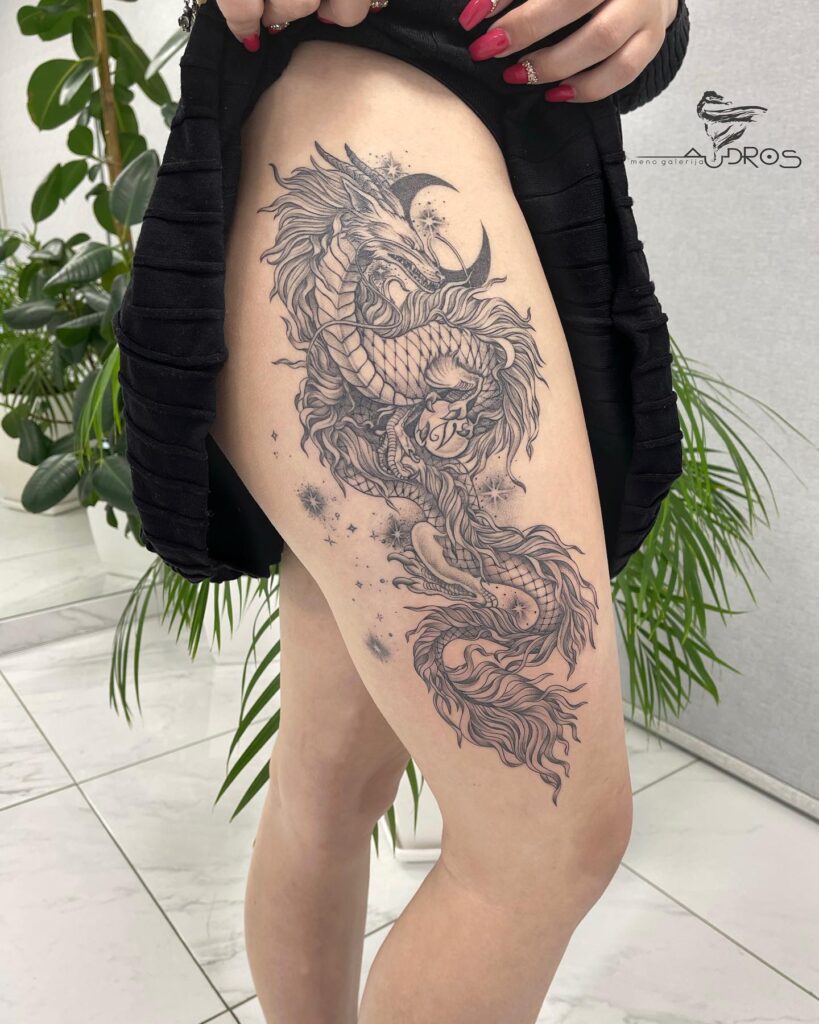 Dragon is a symbol of strength, power, and good fortune; hence women like to get it inked on their bodies.
It is drawn in a traditional Chinese style and has some cultural beliefs as well.
On top of that, it appears attractive to the onlookers, and you can get these leg tattoos for women inked in a greyscale outline or colourful one.
6] Birth Flower Leg Tattoo Designs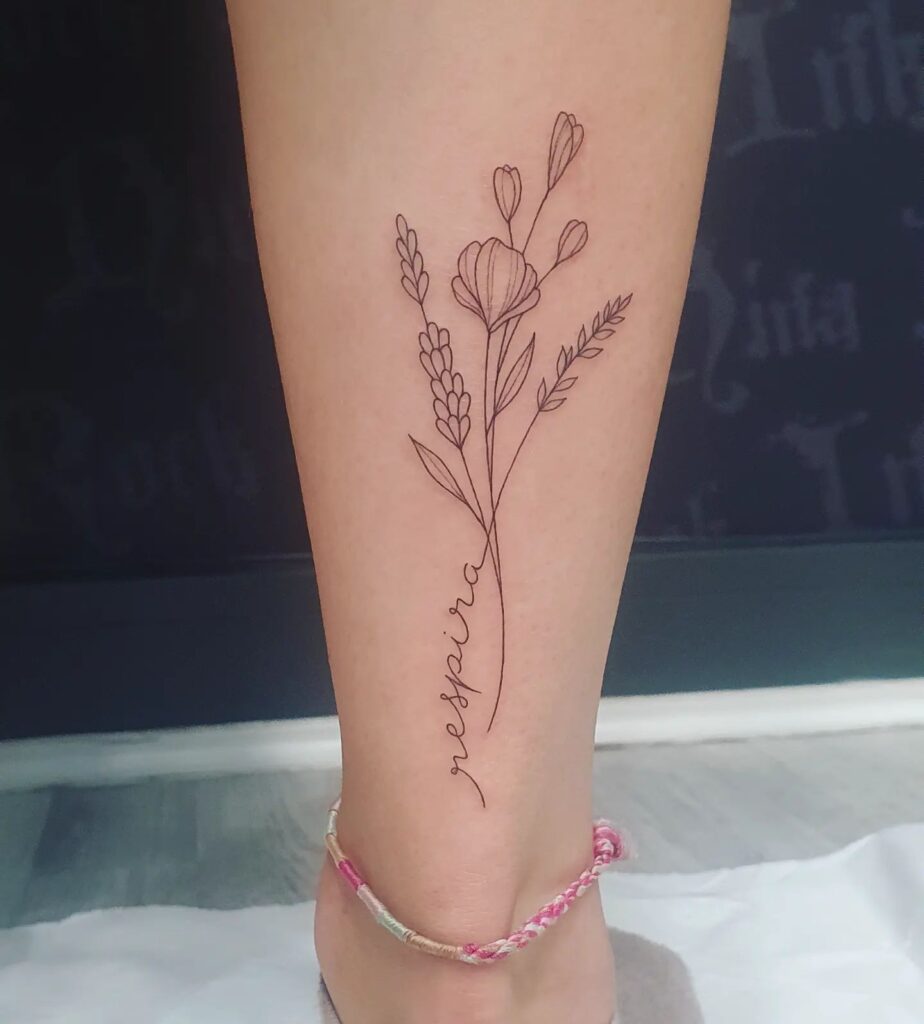 It is a popular leg tattoo design for women with a birth flower that holds unique and special meaning to their life.
Your birth flower tells more about your personality, quality, thought process, and characteristics and hence the best way to express yourself as an individual is via this meaningful leg tattoo design.
7] Rose On Cross Tattoo Design For Women's Leg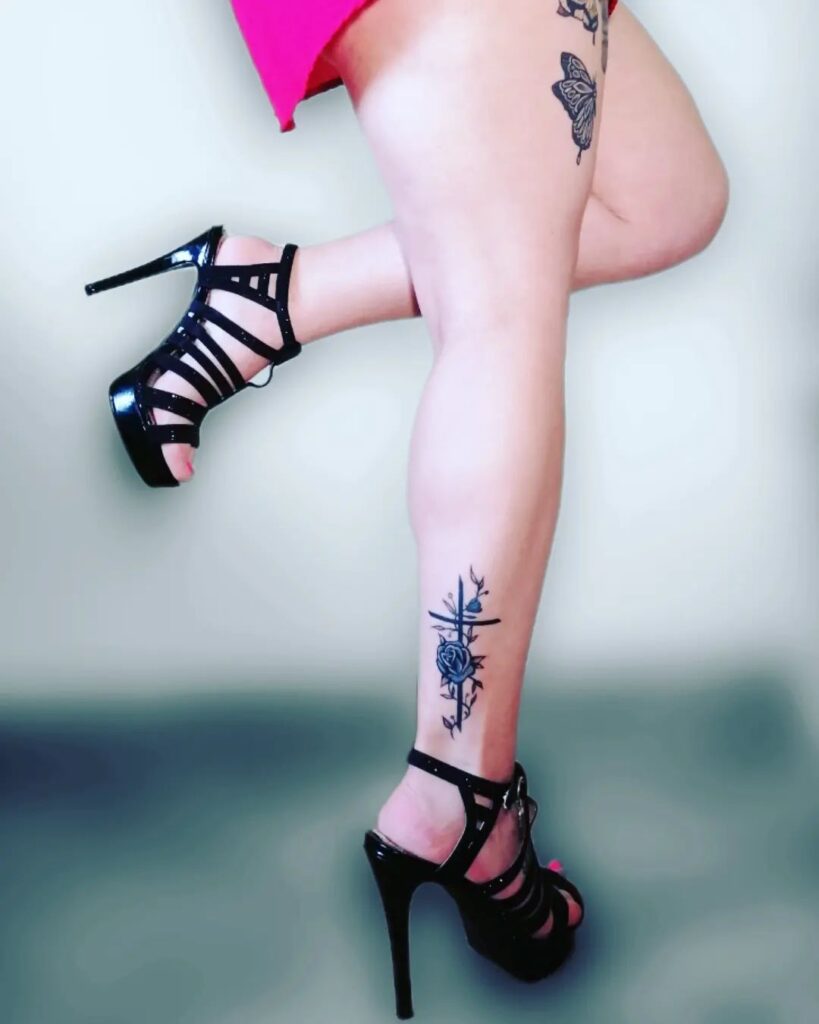 Another leg tattoo for women that helps them make a statement in society alongside showing their personality through art and design is a rose on the cross tattoo.
It shows their life's past experiences, belief systems, and transformation.
You can get this tattoo on the back of your ankle or any other part where it can be perfectly visible.
8] Beautiful Mini Bird Tattoo On Ankle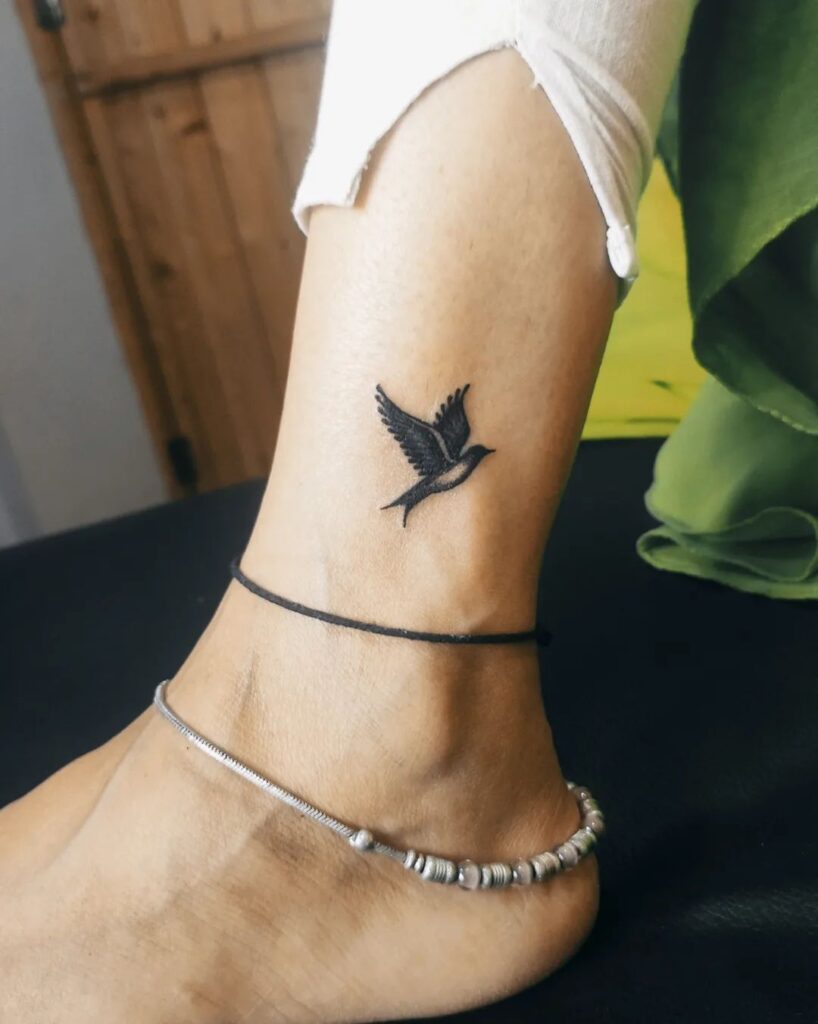 For the free-spirited women who are more likely to enjoy their freedom, it is best to get a mini bird; supposedly a dove tattoo inked at the outer side of her ankle or above it.
This is one of the best minimal tattoo designs that make your ankle look beautiful as well as reflect your independence.
9] Dispersing Flower Butterfly Tattoo Design For Women's Leg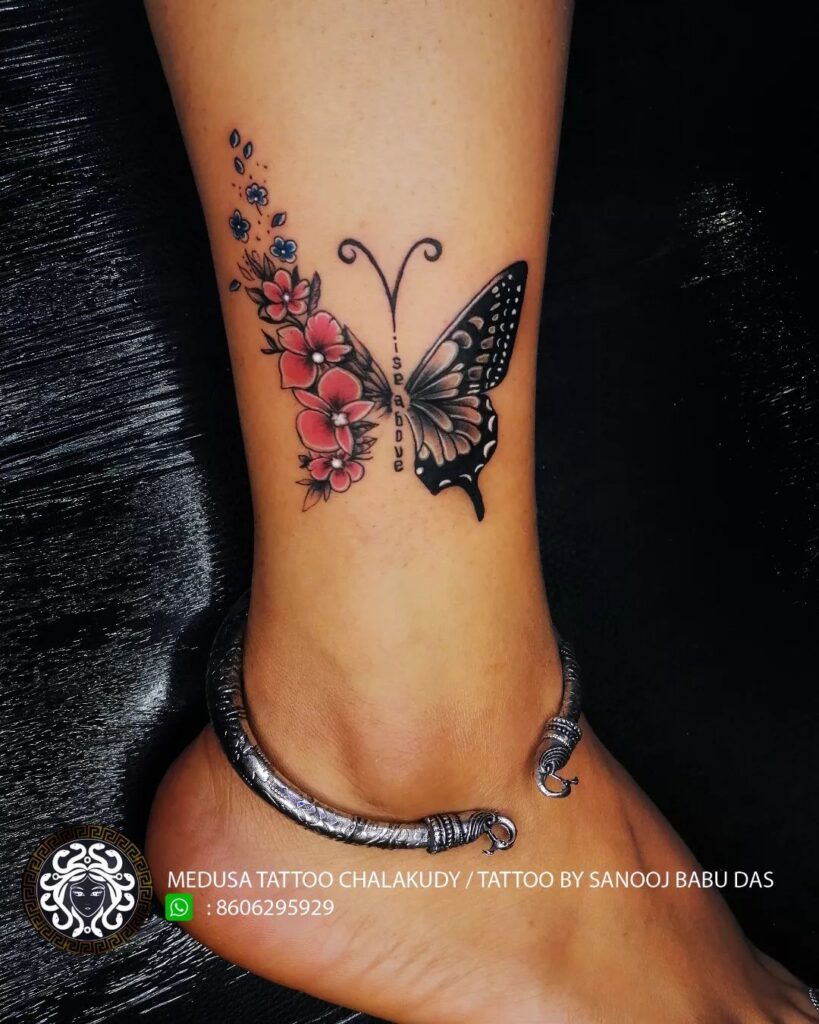 Dispersion tattoos are a unique and artistic way to express one's individuality and creativity, and thus the most loved leg tattoo design for women.
Butterflies represent growth and transformation, and flowers are symbols of love.
Hence, women find this meaningful tattoo attractive and get it inked on their legs, forehand, and other body parts.
10] Bohemian Tattoo Design For Women On Leg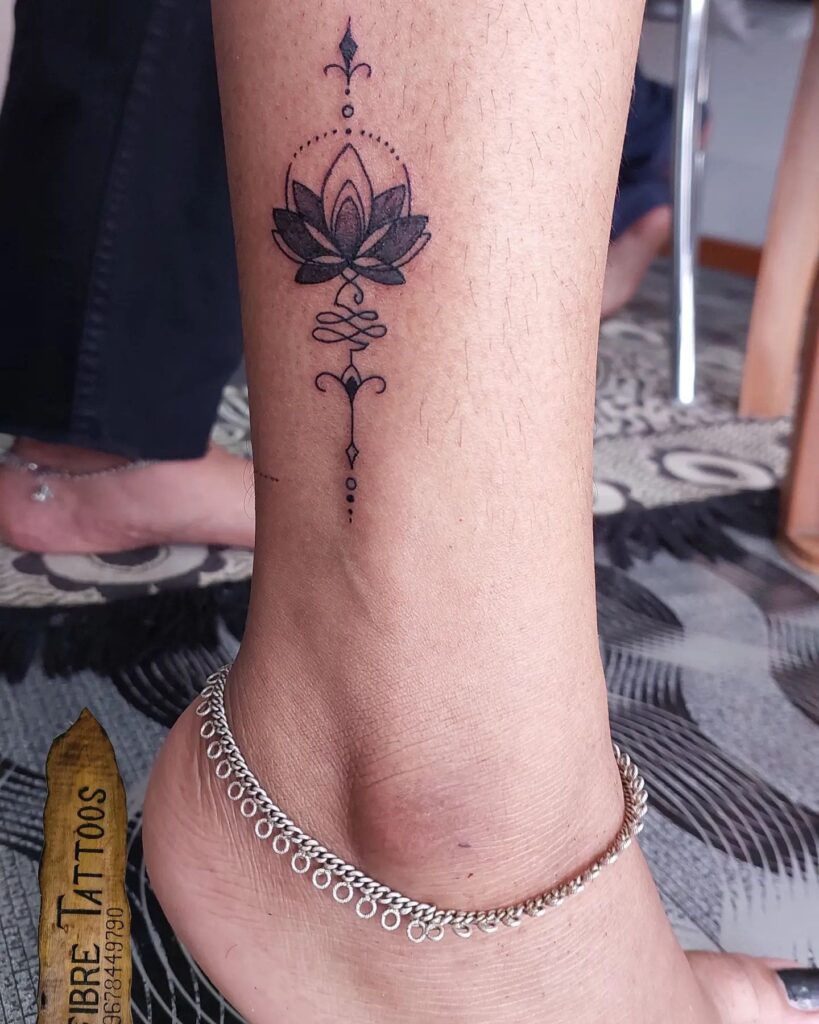 A Bohemian leg tattoo for women is often seen as a representation of individuality, celebrating nature, honouring spirituality, and commemorating travel to places.
If you are a lover of creativity, nature, individuality, spirituality, and hope, then you should get this beautiful Bohemian tattoo on your leg.
11] Feather On Leg Tattoo Design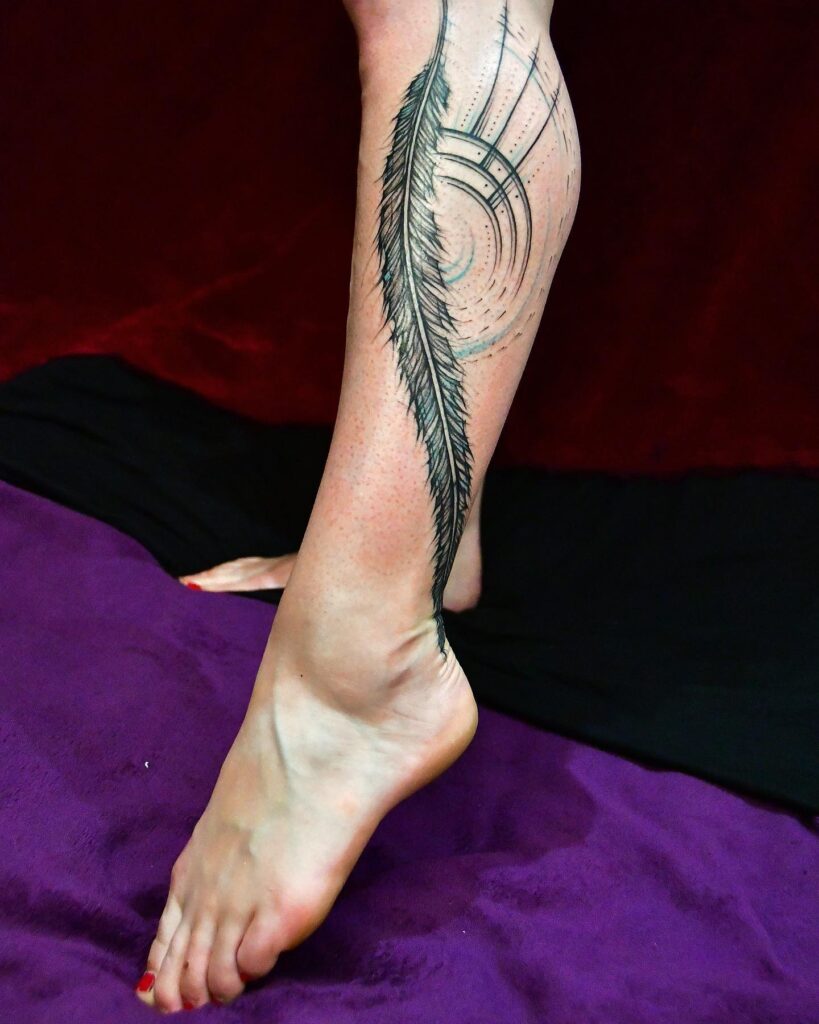 Representing freedom, spirituality, strength, beauty, and culture, feather-leg tattoo designs for women are popular among netizens.
It looks beautiful when it is inked on the side of the leg.
However, you can even go with a mini feather design if you do not want to cover your whole leg.
12] Amazing Full Leg Flower Tattoo Design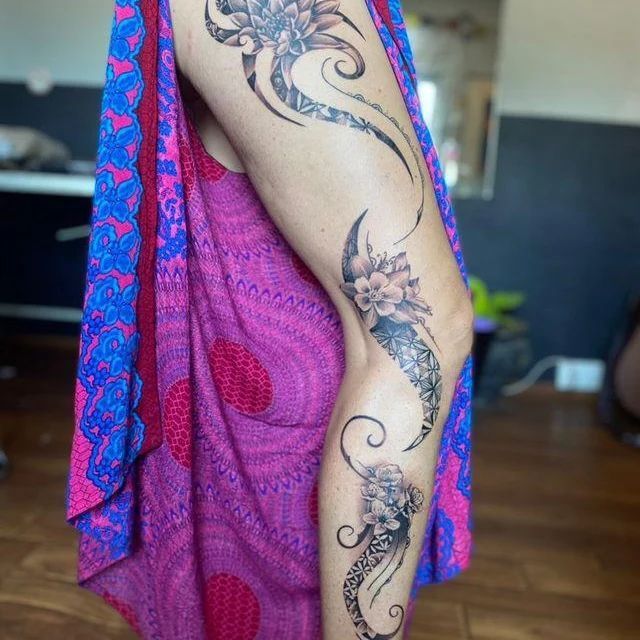 Get inked with these beautiful watercolour flower leg tattoos for women that go up to your thighs from the ankle.
The mixture of two different flowers makes it look even more beautiful and bold as well as attractive symbolizing love, blossom, growth, and beauty.
13] Connecting Flowers Tattoo Design For Full Leg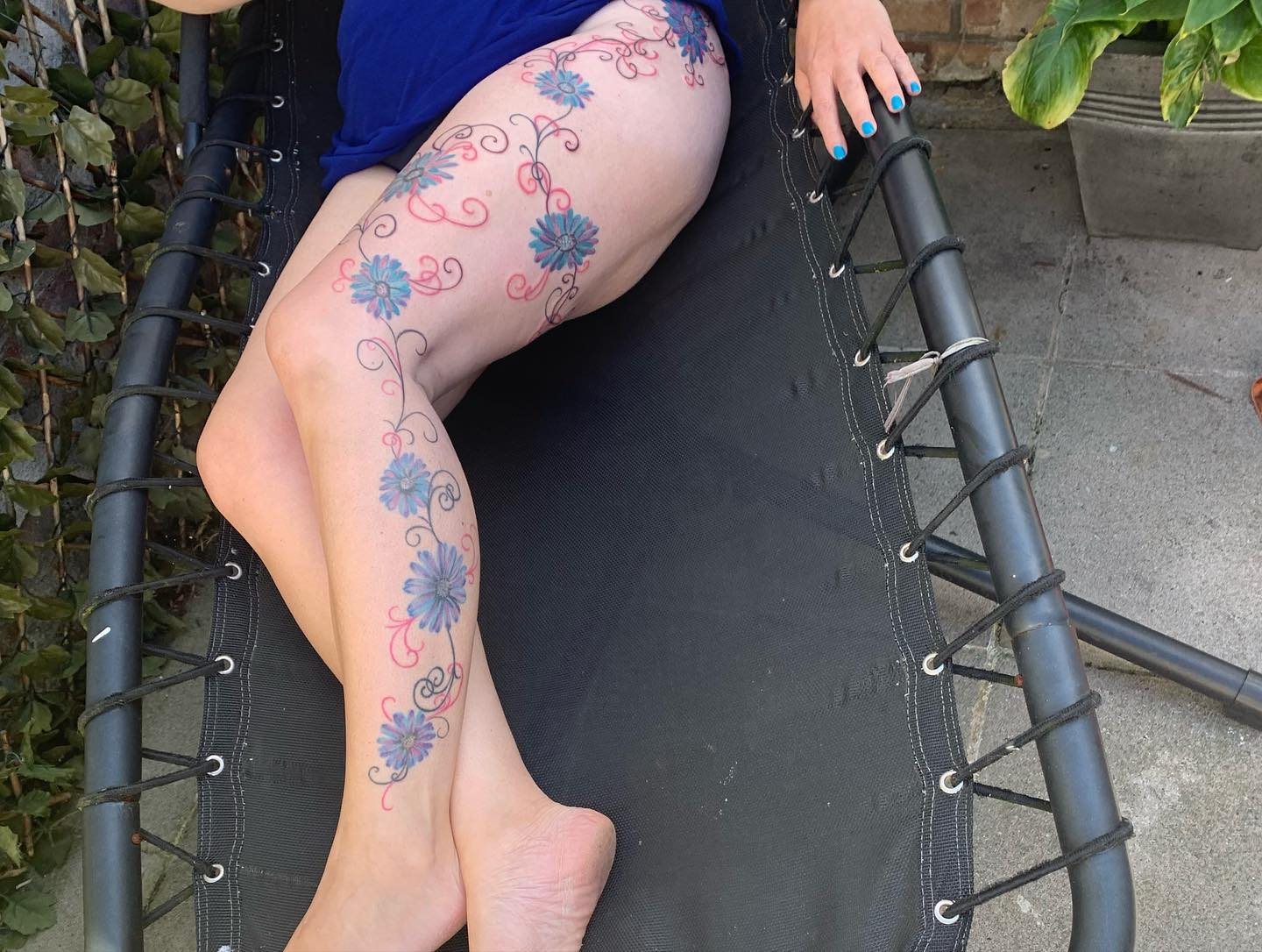 One of the amazing full-leg tattoo designs for women is this connecting flower that is made with coloured inks.
It is an elegant design in which flowers are connected with each other through vines that shows the happiness and positivity with which you see the world.
You can customize the size and design of this full-leg colourful tattoo according to the area you want it to get inked, e.g. ankle, wrist, leg, forehand, etc.
14] Pink Flowers With Quote Leg Tattoo Design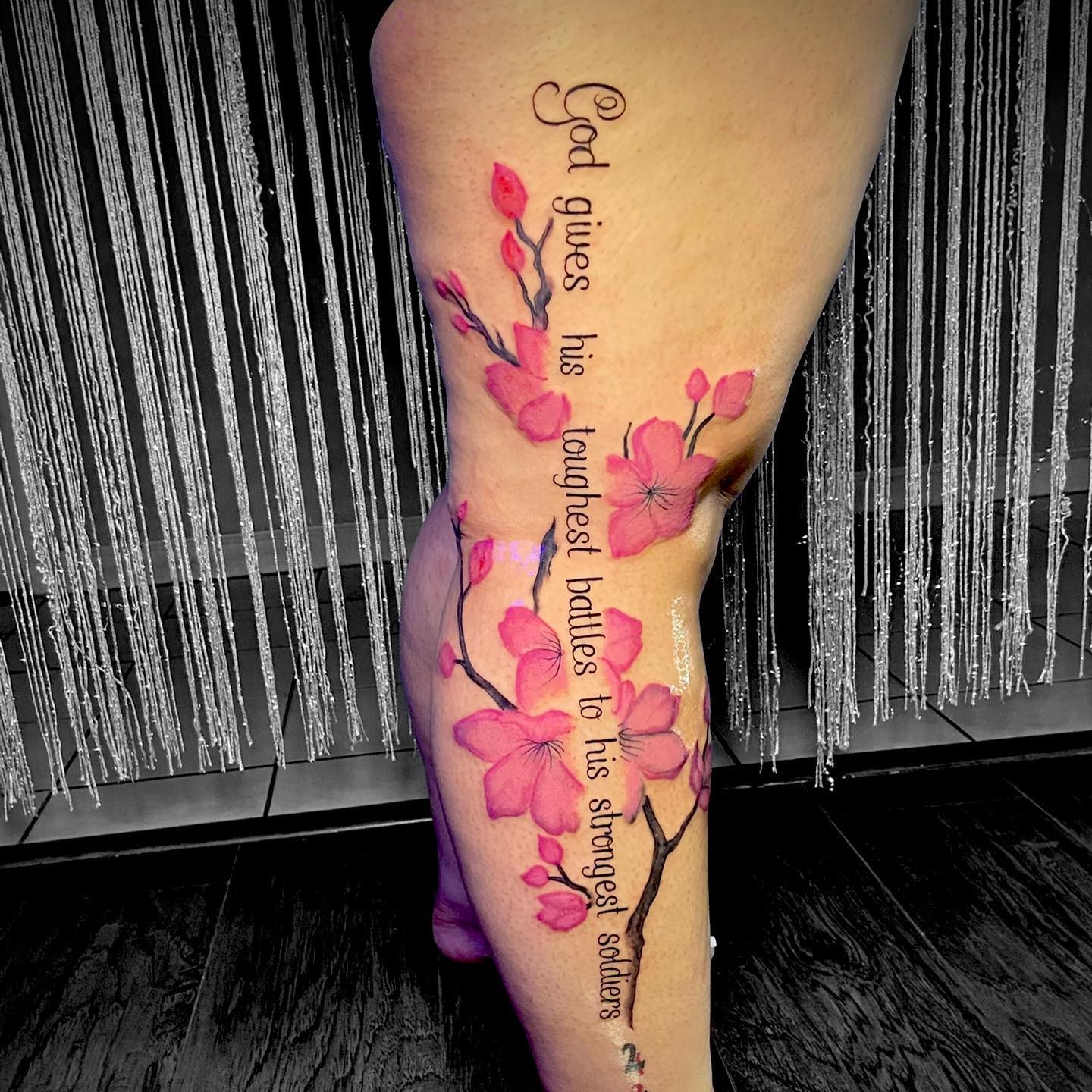 Flower is a beautiful and meaningful leg tattoo for women, and it can be tailored according to your personality and individuality.
This tattoo is known to represent your abundance and fertility.
This can be drawn from the ankle to the thighs or just the calves and area around the ankle, depending upon your choice.
15] Flora And Fauna Full Leg Covered Tattoo Design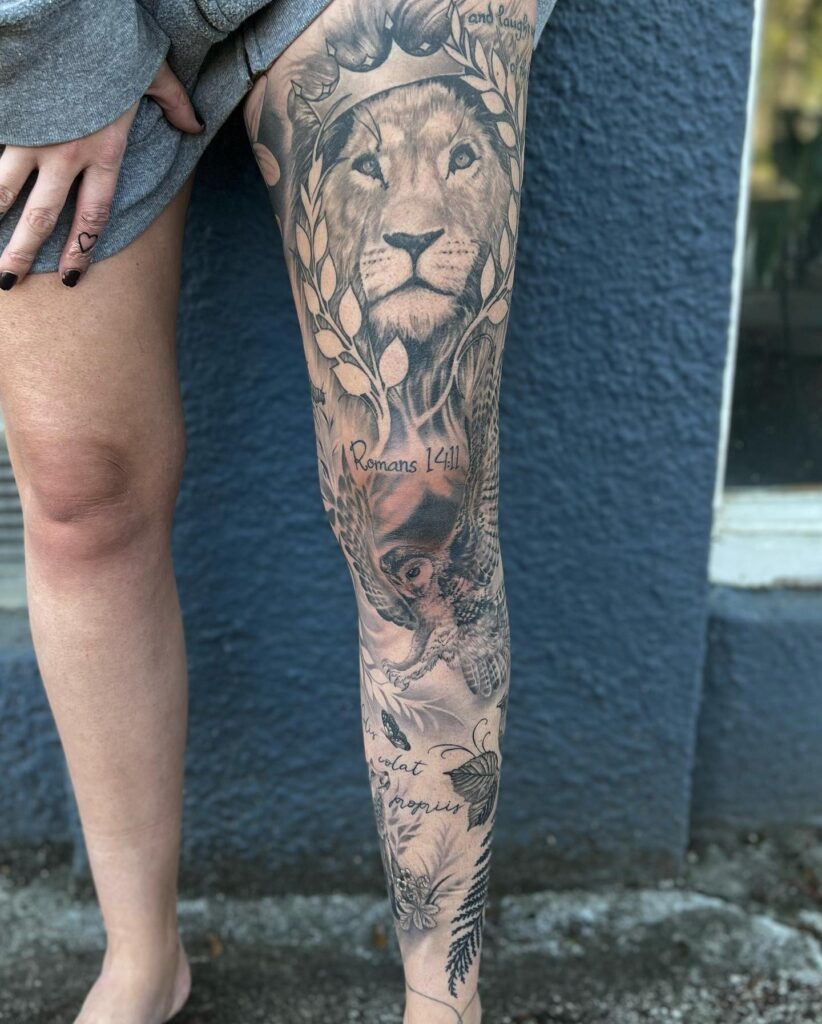 Flora and fauna is an artistic leg tattoo for women that include natural elements such as animals and plants in the art.
It resembles different things at a time, such as love, power, growth, and resilience, that may differ from person to person.
16] Rose Lock Key Tattoos For Women On Leg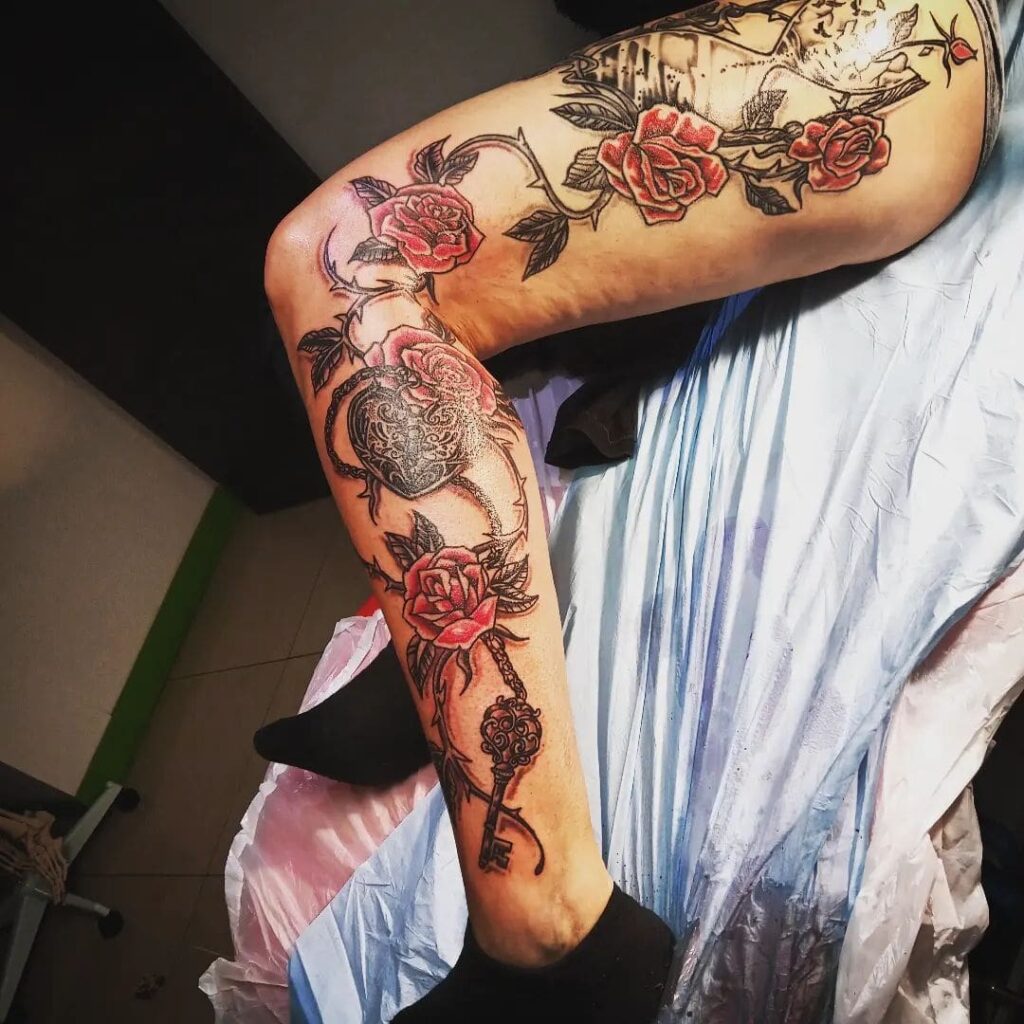 Roses are a popular symbol of love, whereas lock and key are representors of protection and security.
Hence this tattoo can resemble both love and pain.
This full-leg women tattoo reflects that you are guarding your heart/ love that only one person can open, or you have locked your love for the person you will never forget in your life.
17] Smile Now, Cry Later: A Leg Tattoo for Empowerment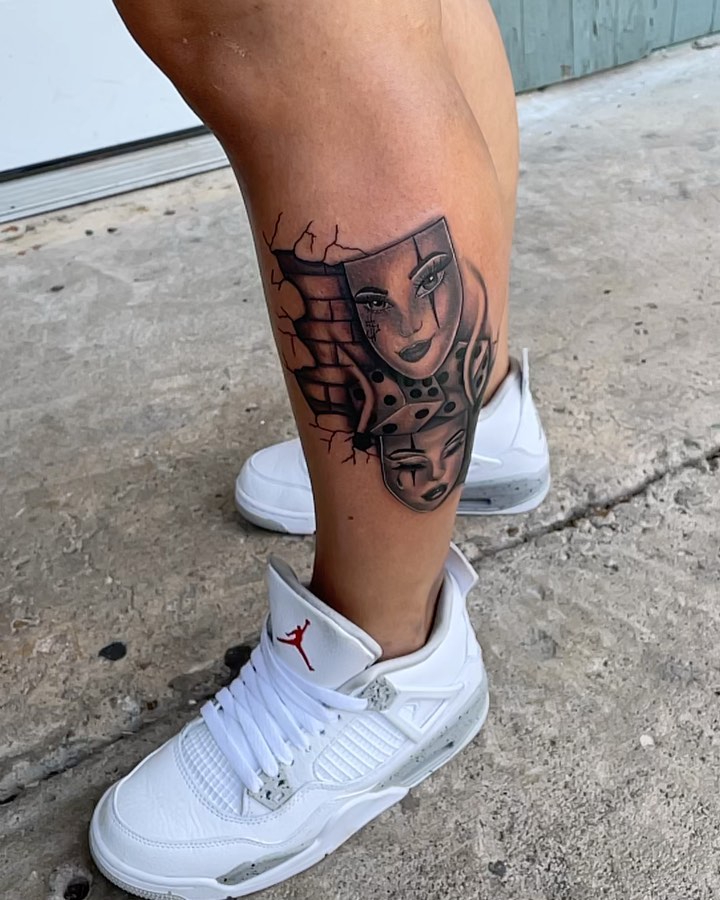 The smile now cry later tattoo gracing her leg embodies a powerful message.
This design captures the essence of embracing life's ups and downs with a smile, acknowledging that happiness and sadness are part of the human experience.
It's a striking and expressive adornment that serves as a reminder to stay resilient and positive through life's journey.
18] Elegance Under the Knee: Dragonfly Tattoo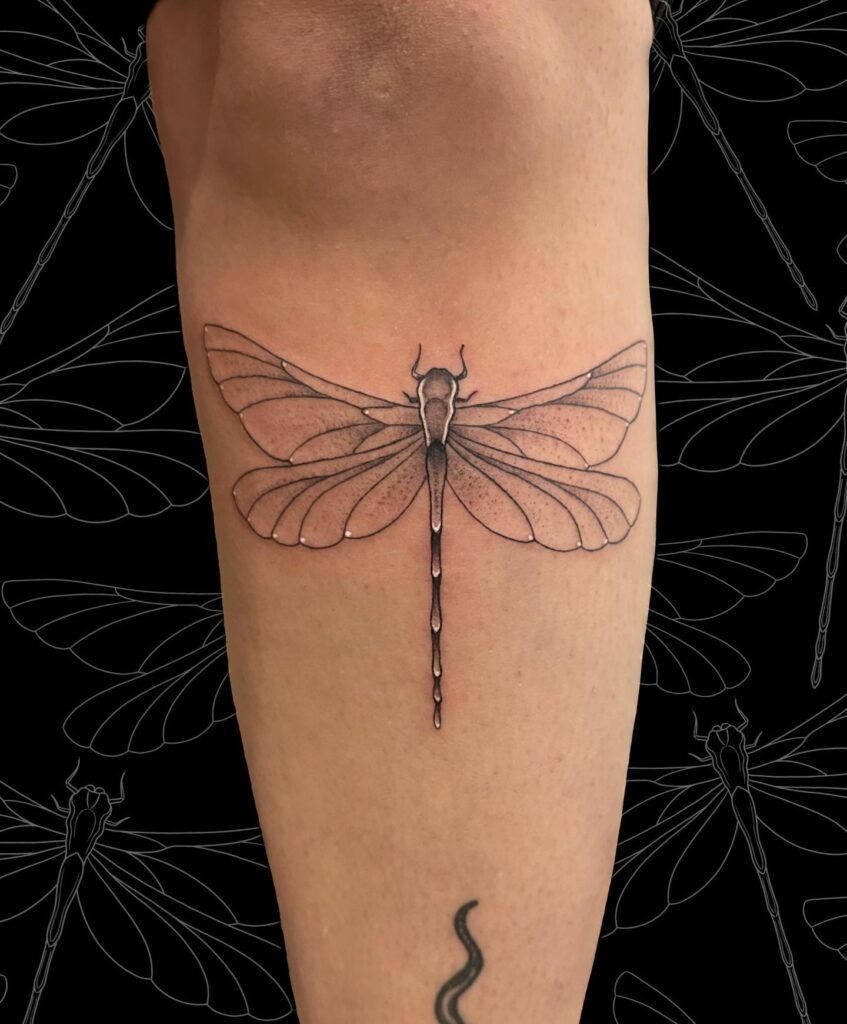 A dragonfly takes flight just under her knee in this beautiful outline under knee dragonfly tattoo.
The delicate lines of this design create an elegant silhouette of this enchanting creature.
Symbolizing transformation and adaptability, this tattoo reflects her own ability to embrace change gracefully.
It's a beautiful and meaningful addition to her body art collection.
19] Dainty Willow Branch: A Leg Tattoo with Nature's Grace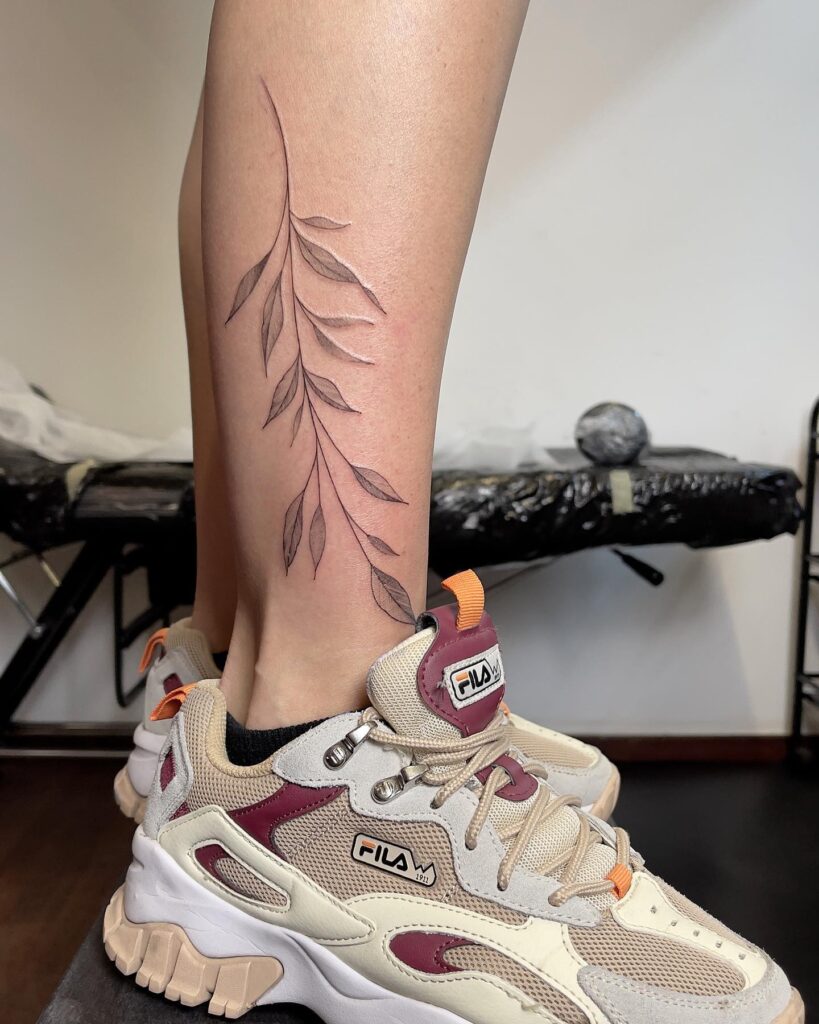 A dainty willow branch tattoo graces her leg with its slender branches and graceful leaves.
This design exudes a sense of tranquility and resilience, much like the willow tree itself.
It's a simple yet poignant adornment that signifies her connection to nature and her ability to bend without breaking.
This tattoo celebrates her inner strength and serenity.
20] Simplicity Speaks Volumes: Single Rose Leg Tattoo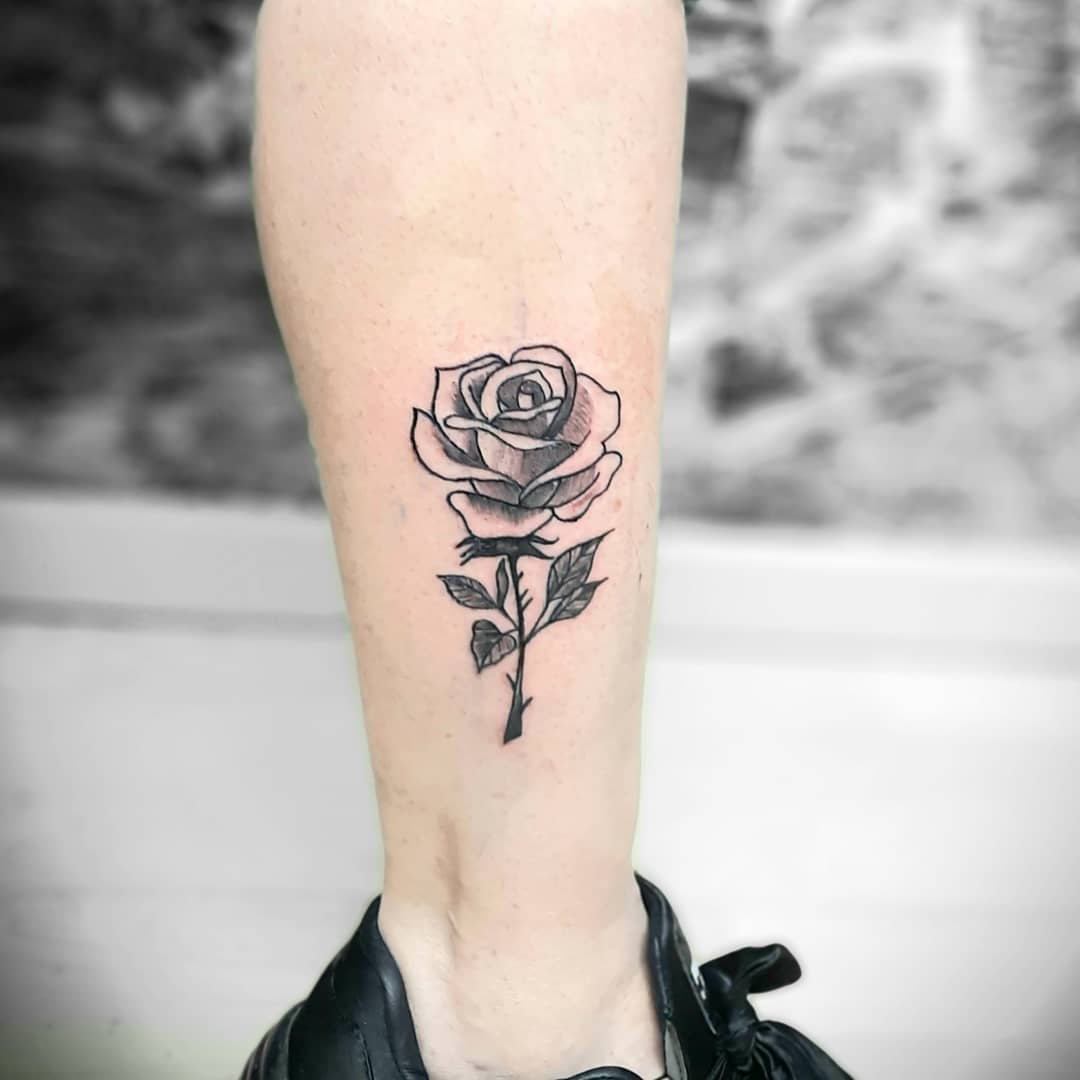 A single rose blooms on her leg in the simple single rose tattoo.
This design captures the timeless beauty and symbolism of the rose.
As a symbol of love and passion, it represents her own capacity for love and the depth of her emotions.
This tattoo is a graceful and enduring expression of her sentiments.
21] Blossoming Beauty: Sunflower Calf Tattoo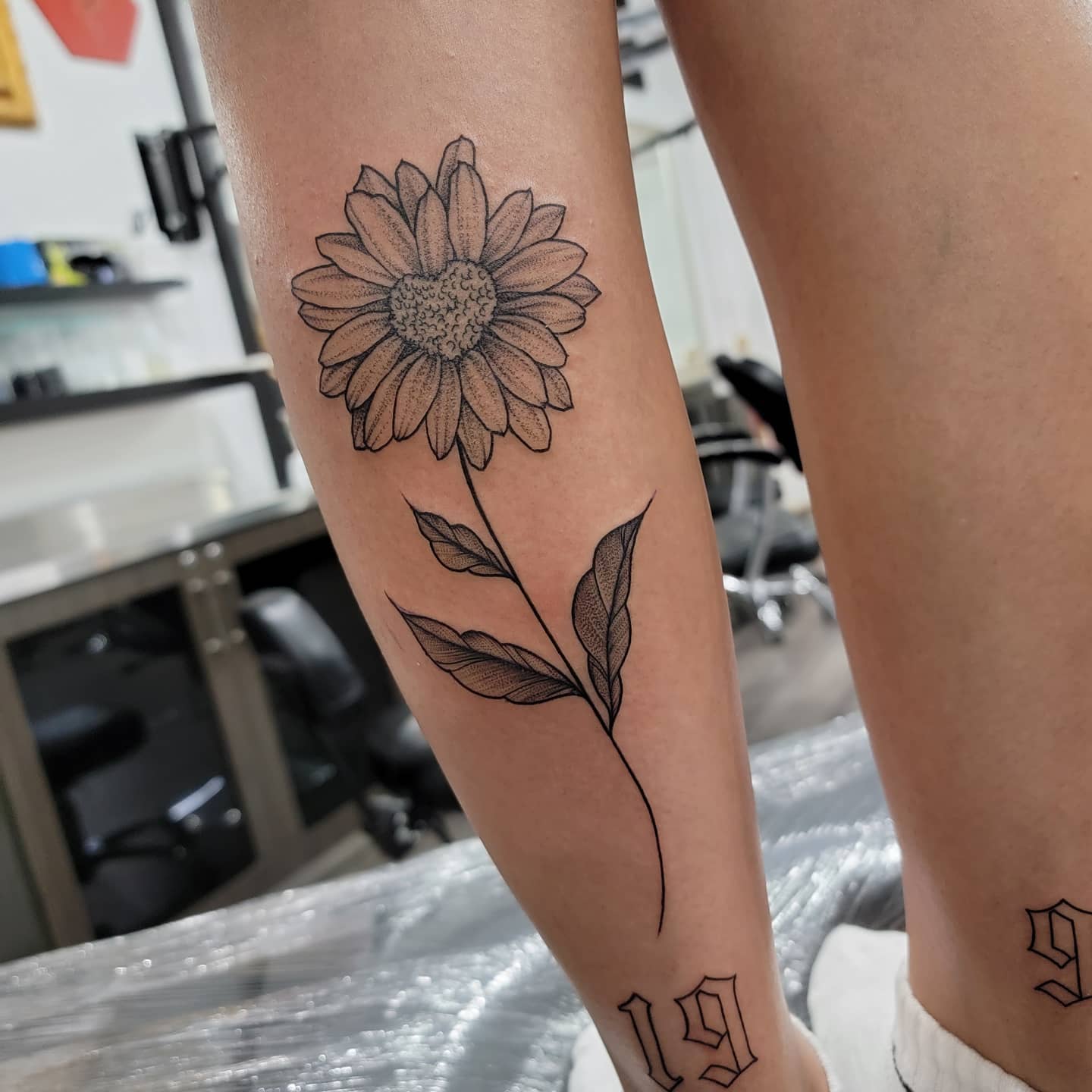 A sunflower in full bloom adorns her calf in the beautiful calf tattoo.
This design radiates with the vibrant energy and positivity associated with sunflowers.
It mirrors her own sunny disposition and the way she brightens the lives of those around her.
This tattoo is a stunning and cheerful statement of her optimism and inner light.
22] Girly Mandala Leg Sleeve: A Stylish Tattoo Choice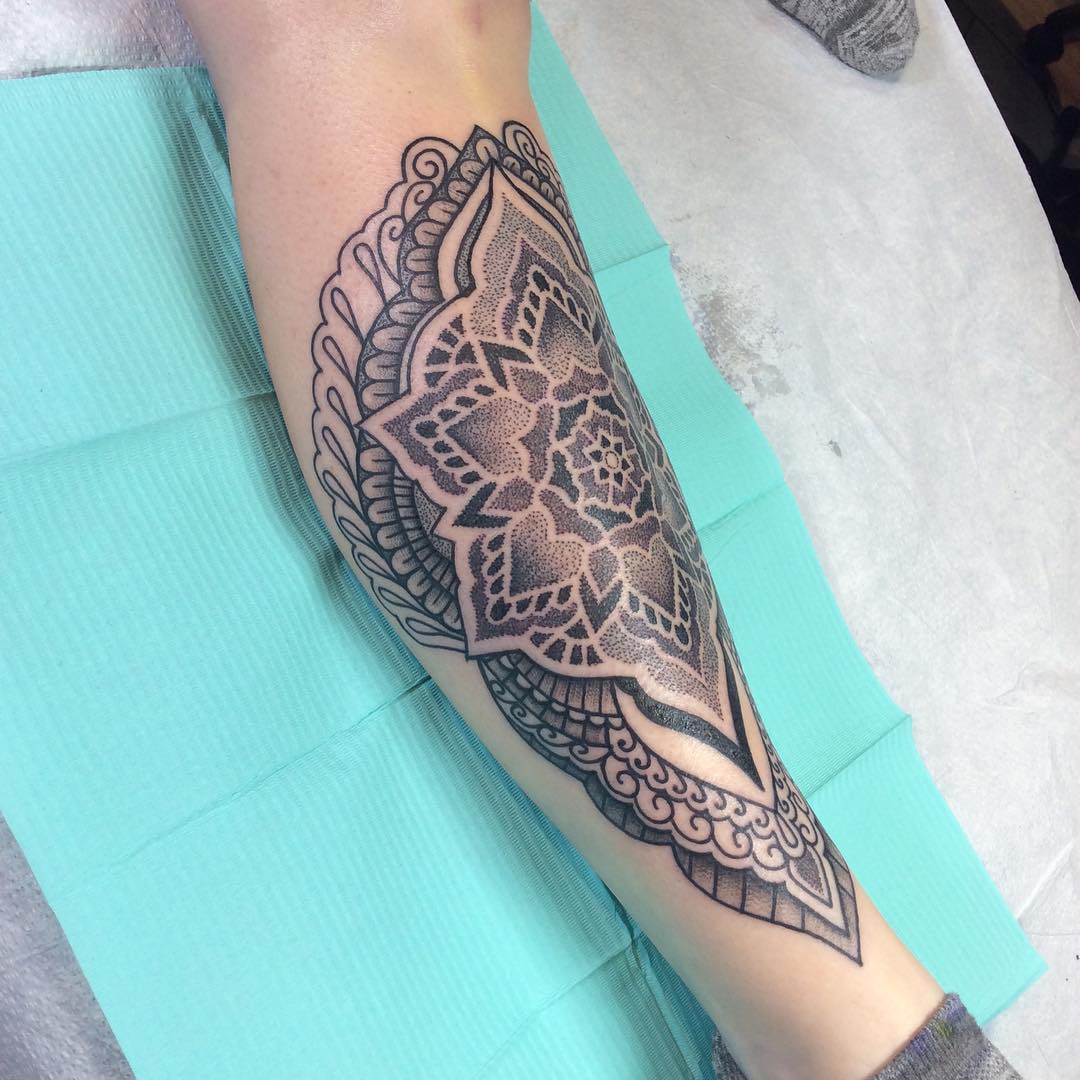 Her leg transforms into a canvas of intricate beauty with the amazing girly mandala leg sleeve tattoo.
This design features an array of mandalas, each a symbol of unity and balance.
It reflects her desire for harmony and her appreciation for the intricacies of life.
This tattoo is a stylish and captivating expression of her inner grace.
23] Shades of Gray: Bunch of Roses Tattoo for Your Leg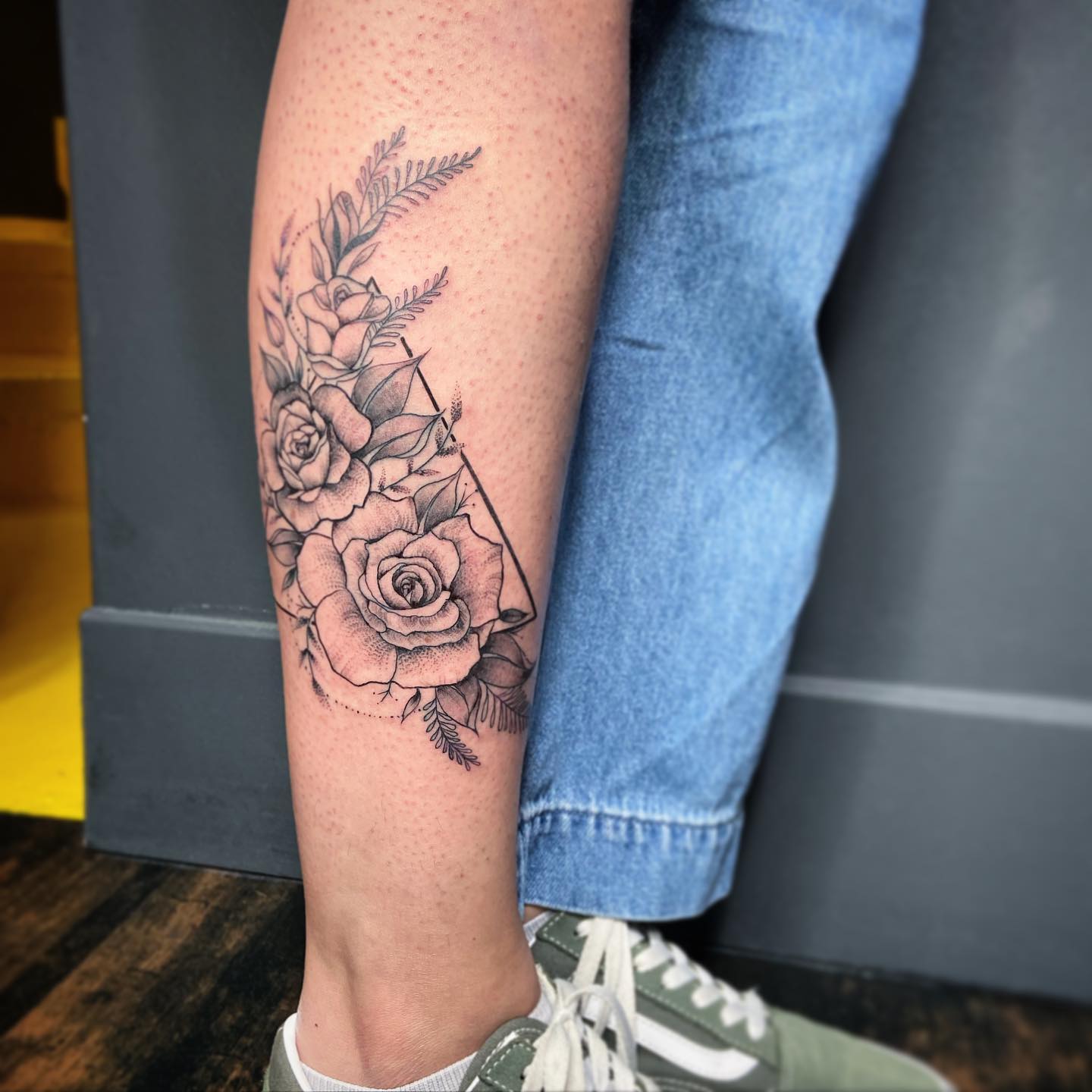 A stylish bouquet of roses in shades of grey graces her leg in this tattoo.
This design captures the classic elegance and timeless beauty of roses.
Each rose represents a facet of her personality and experiences.
This tattoo is a sophisticated and artistic adornment that celebrates her multifaceted nature.
24] Minimalistic Magic: Moon and Stars Ankle Tattoo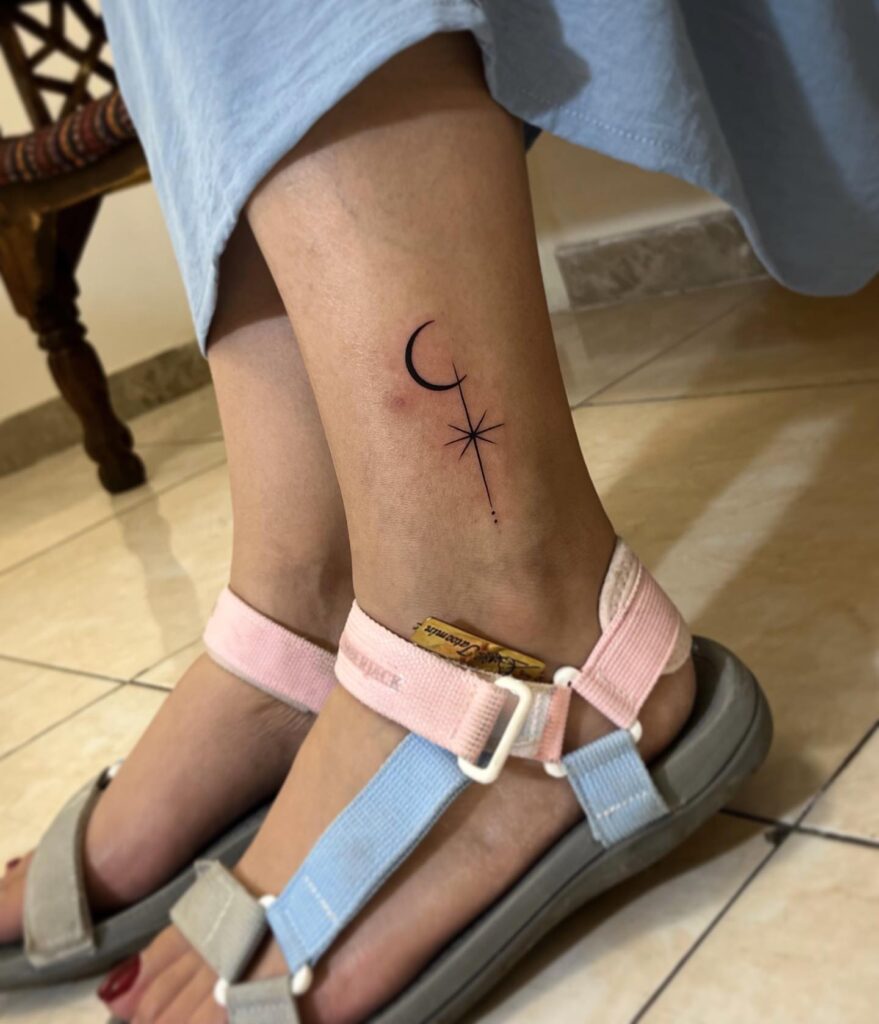 A minimalist moon and stars tattoo adorn the area just above her ankle.
This design embodies simplicity and celestial charm.
It signifies her connection to the night sky and the mysteries of the cosmos.
This tattoo is a subtle yet enchanting expression of her fascination with the universe.
25] Unique Shell Tattoo: Adding Charm to Your Leg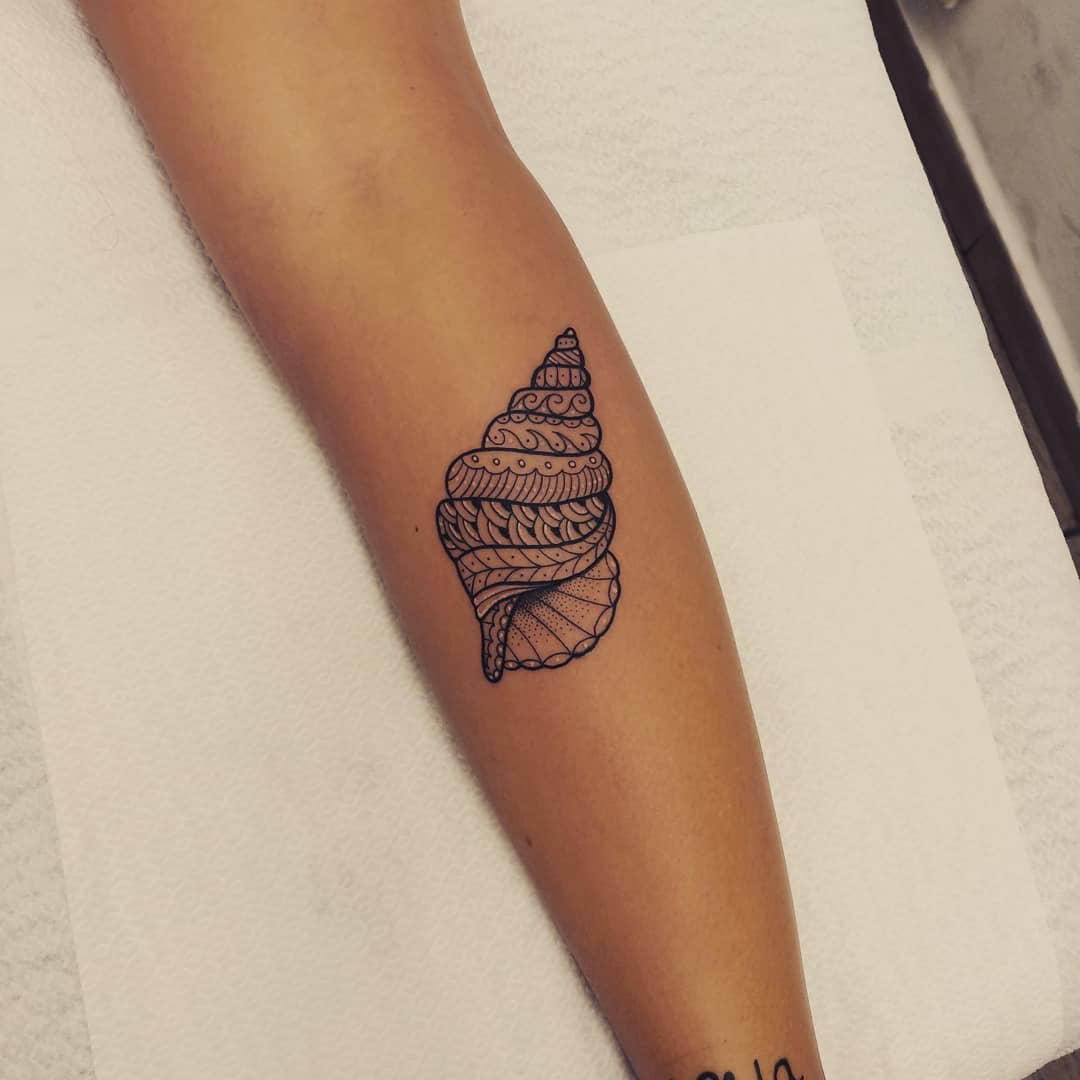 A unique shell tattoo embellishes her calf with its intricate details.
This design symbolizes her connection to the sea and the depth of her experiences.
It reflects her love for nature's wonders and her appreciation for the beauty found in unexpected places.
This tattoo is a distinctive and meaningful addition to her body art.
26]

Back of Lower Leg Golden Snitch Tattoo: Subtle Enchantment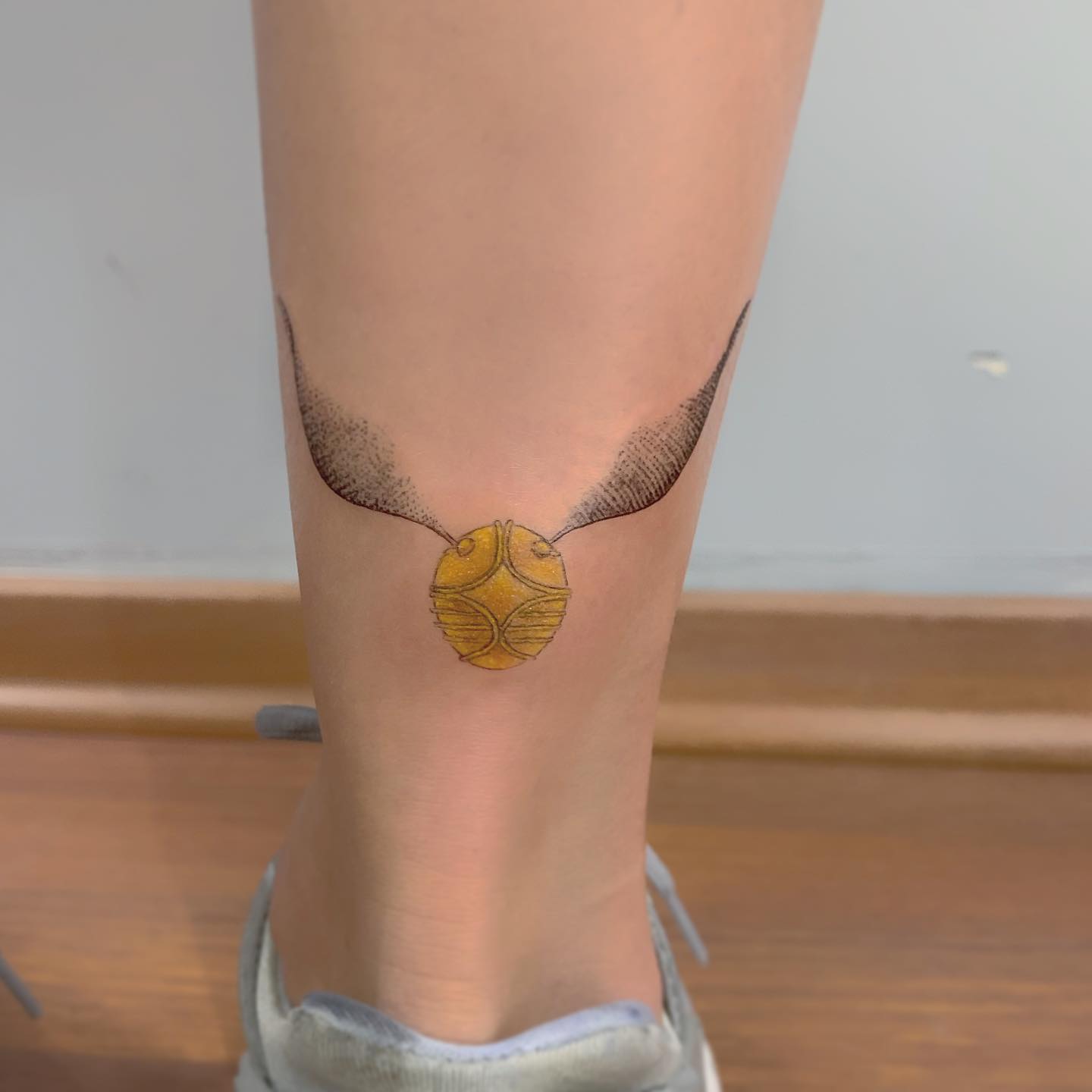 Experience subtle enchantment with a golden snitch tattoo on the back of your lower leg.
This tattoo adds a touch of magic to your skin, reflecting your connection to a world of wonder.
For females who want a tattoo that embodies their inner enchantress, this choice is an excellent fit.
FAQ
Why Should You Go For The Best Leg Tattoos For Women?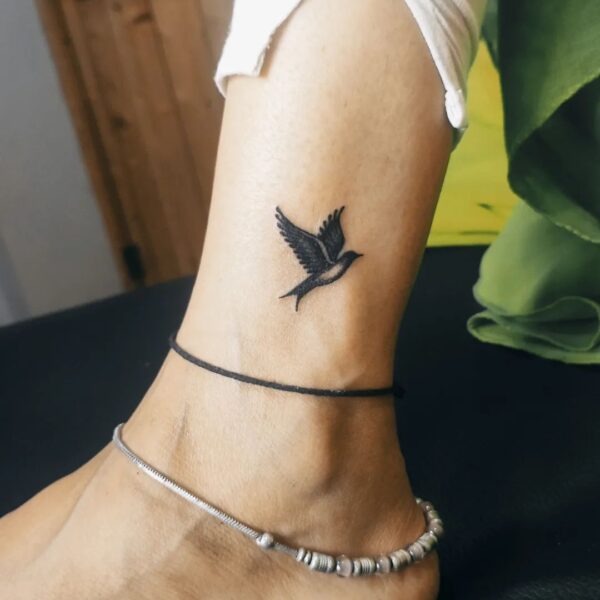 A tattoo is an art that adds charm to your appearance. If you used to wear short dresses or slit-cut gowns, you could beautify your leg with amazing tattoo designs.
Along with the various tattoo styles, you can decide the size to better suit your long leg.
Should I Shave Before Getting Leg Tattoo Design For Women?
The hairy skin can be problematic for drawing the tattoo. So, to get rid of this problem, either you can shave the required area on your leg for tattooing, or the professionals will take care of it if you forget to shave your leg.
Which Designs Of Leg Tattoos For Women Last The Longest?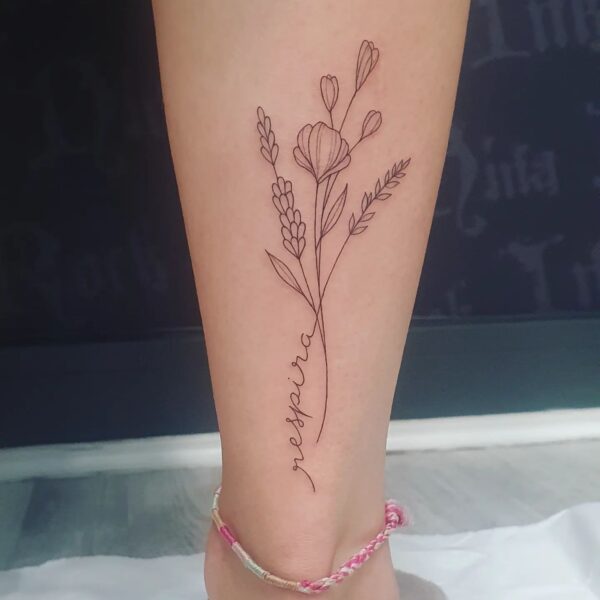 None of the tattoos is permanent for a lifetime because it starts fading away slowly. However, black or black shade tattoos last longer than any other colour.
Also, the skin pigmentation, tattoo designs, and the professional hands used to design the leg tattoo for women are responsible for giving a long-lasting tattoo life.
What Does Leg Tattoo Pain For Girl Or Women Feel Like?
A few decades ago, tattoo artists were using thick needles. It was giving a painful tattooing experience to men and women.
However, with the enhancement of science and technology, tattoo artists now use thin needles.
These tools will feel like bee stings or pricking while going for a tattoo. So, it's neither a negligible nor too painful experience to have a tattoo nowadays.
When Can I Shower After Having A Tattoo Design On my Leg?
Keeping a gap between four to five hours to have a shower is ideal, but it depends on the chemical used to design the tattoo as well.
So, you can ask your tattoo artist for a better suggestion to take a shower after having a leg tattoo.
What Are Some Most Famous Designs For Leg Tattoos For Women And Girls?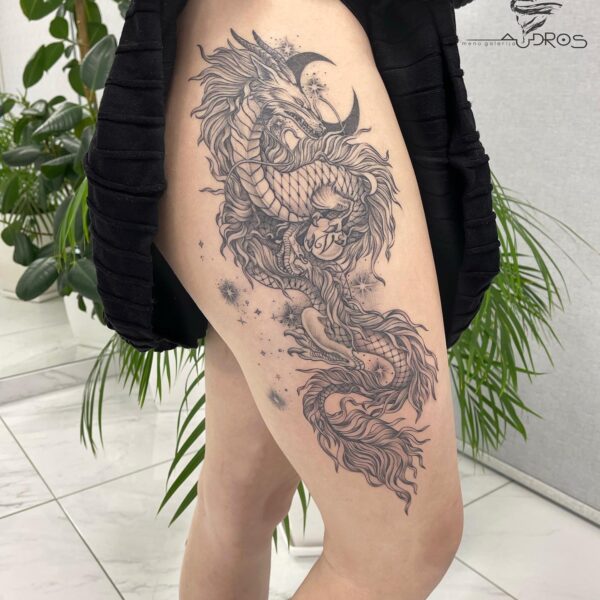 ● Religious Leg Tattoo
● Japanese Leg Tattoo
● Maori Leg Tattoo
● Floral Leg Tattoo
● Dragon Leg Tattoo
● Butterfly Leg Tattoo
● Snake Leg Tattoo
● Tribal Leg Tattoo
Final Verdict
A tattoo is a part of looking fashionable, and if you choose the right design to be placed on the nicely visible part of your body, it can quickly enhance your overall appearance.
So, without giving it a second thought, just save the best leg tattoos for women that won your heart and go for it.
Also, you can check out the list of our best love heart tattoo designs for couples to beautify your hand and fingers.