A baby angel tattoo design featuring an angelic baby or cherub, often depicted with wings, a halo, or other heavenly attributes.
It is popular among young adults, men, and women to get inked because it represents innocence, purity, and protection.
You can also get this tattoo in remembrance of your lost child or some close to you.
Generally, soft pastel colours like pink, blue, and yellow are used for inking baby angel tattoo designs, but you can opt for a monochromatic design if you like, which is made in shades of black and grey.
15 Amazing Baby Angel Tattoo Designs For Men & Women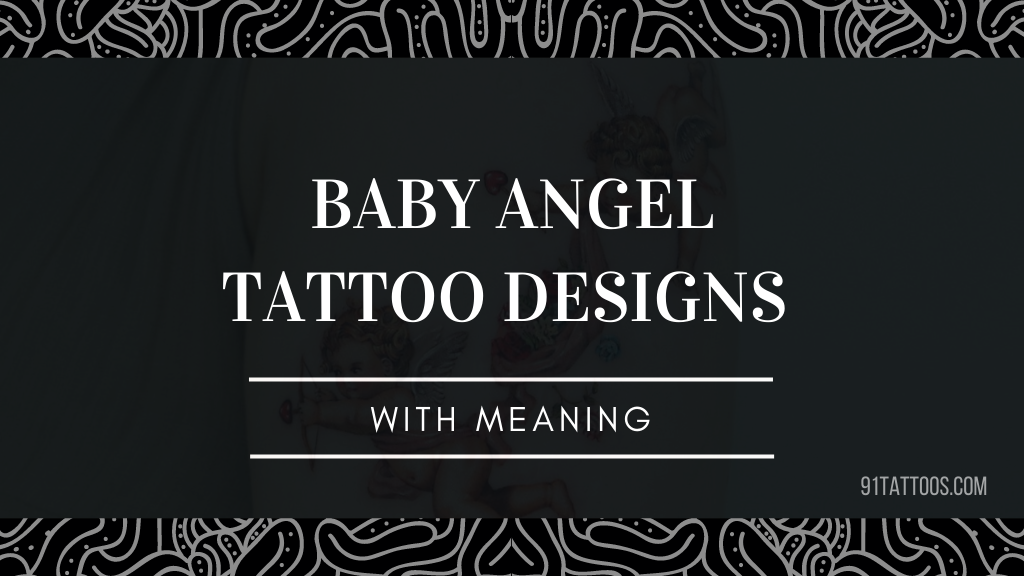 1] Boss Baby Angel Tattoo Design With Meanings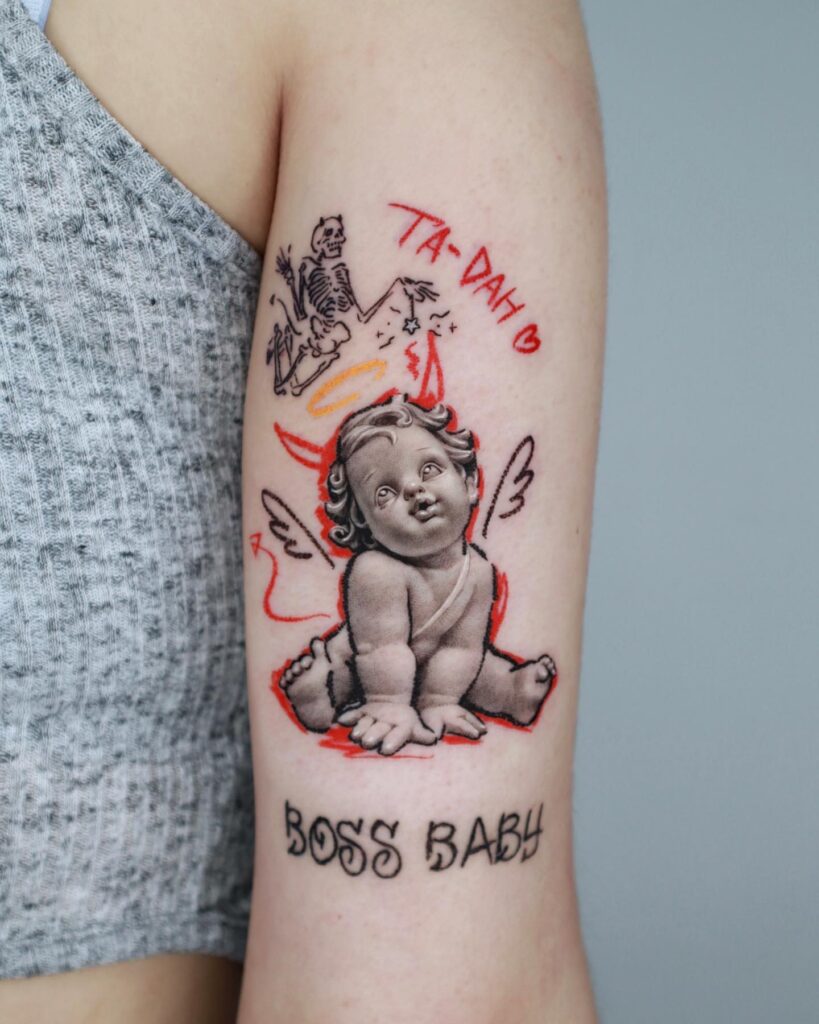 Babies are both innocent and naughty at the same time, and if you have a personality similar to theirs, then you can get a boss baby angel tattoo design inked on your body.
This tattoo contains both a halo and devil horns above the baby's head, depicting the dual nature of the person.
2] Praying Baby Angel Tattoo For Shoulder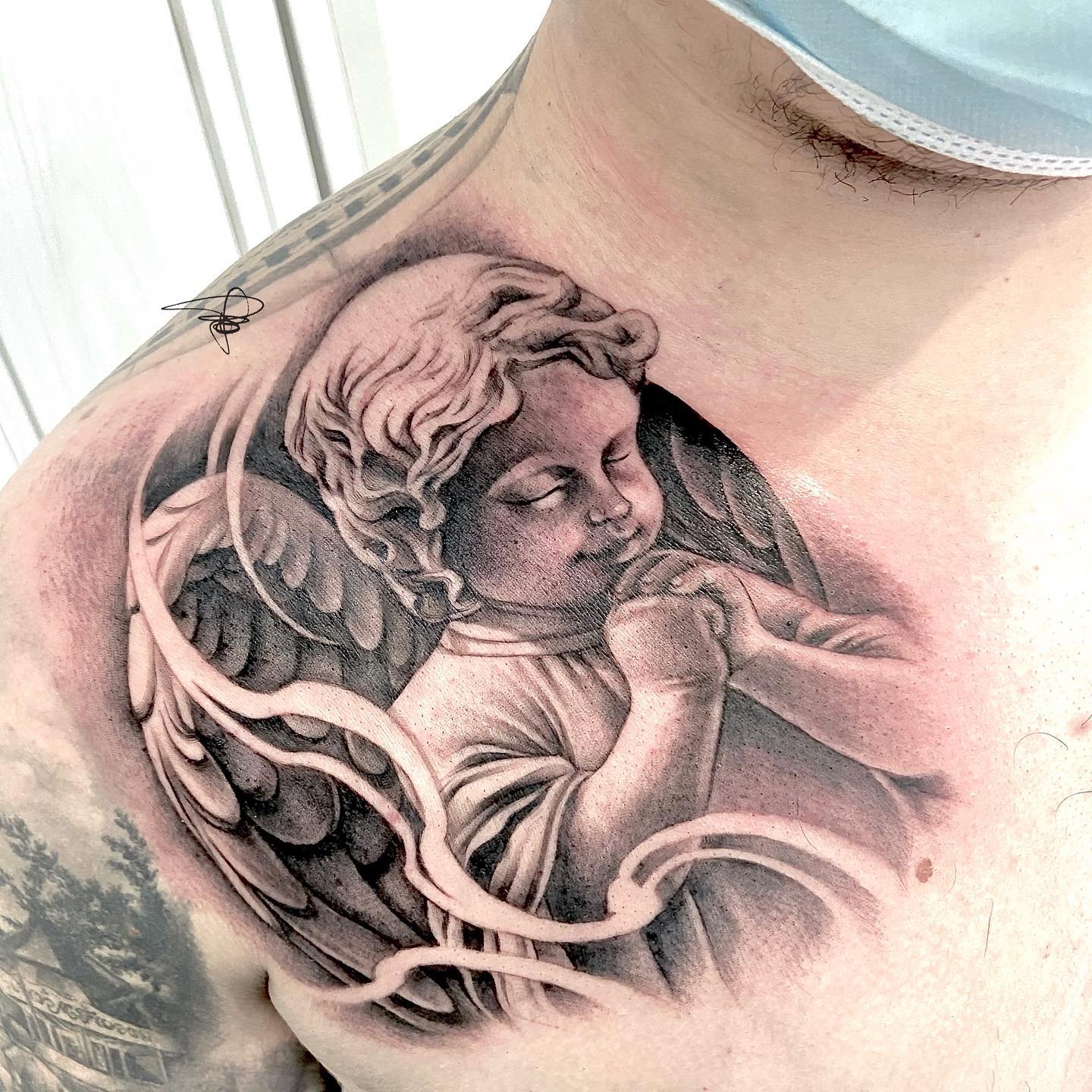 If you are looking for a tattoo that will express your immense faith in God, then a praying baby angel tattoo can be the best choice for you.
As babies cannot do anything on their own and are dependent on their parents, likewise, you are dependent on God and have faith that he will guide you throughout your life.
3] Three Wise Baby Angel Tattoo Designs With Meanings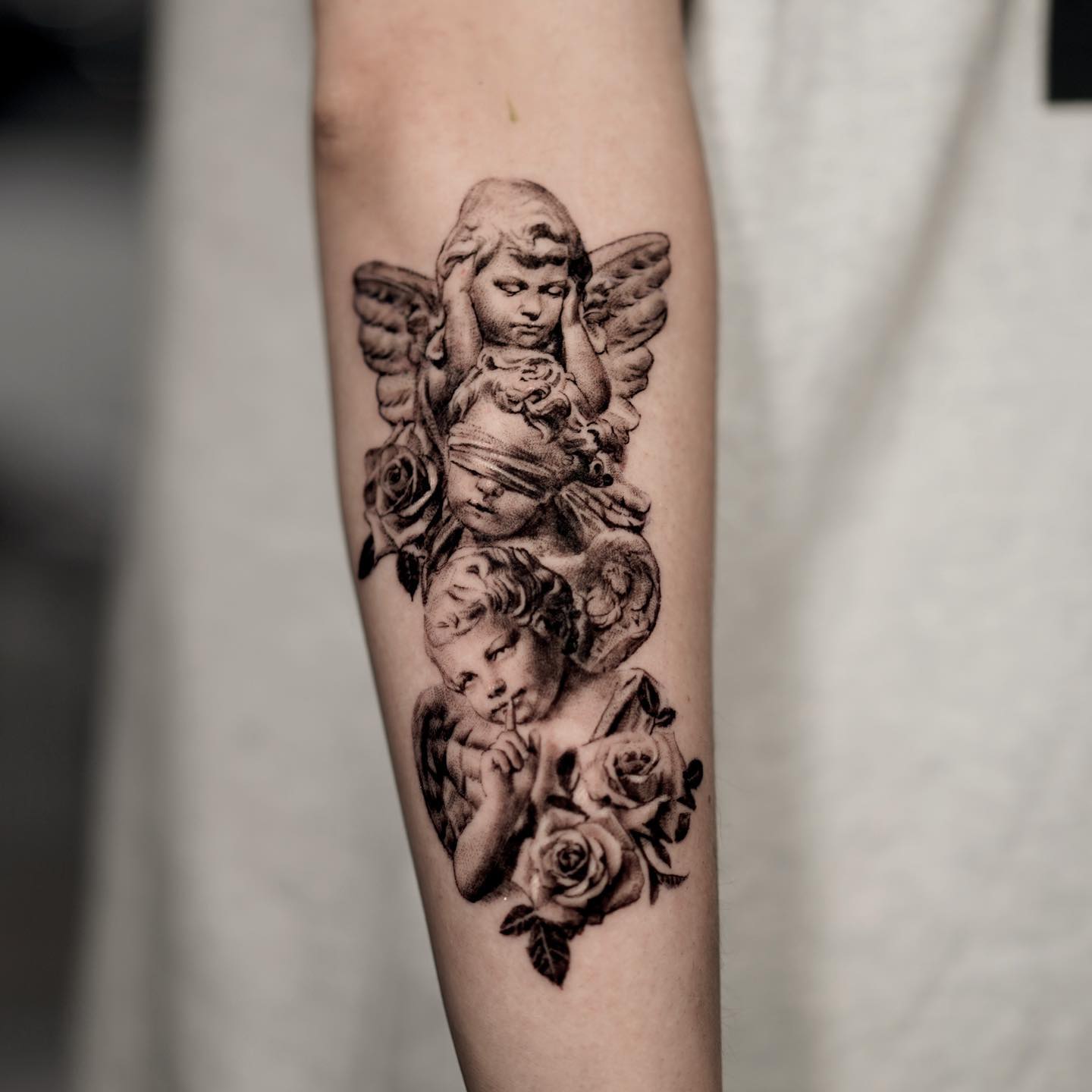 You can get three wise baby angel tattoo design inked on the body part that tells you to see no evil, hear no evil, and speak no evil.
Babies are the most innocent and purest humans on earth who are away from all evils; hence you can get this tattoo inked as a reminder for yourself to stay away from the distractions of the world.
4] Red Ink Outline Baby Angel Tattoo For Women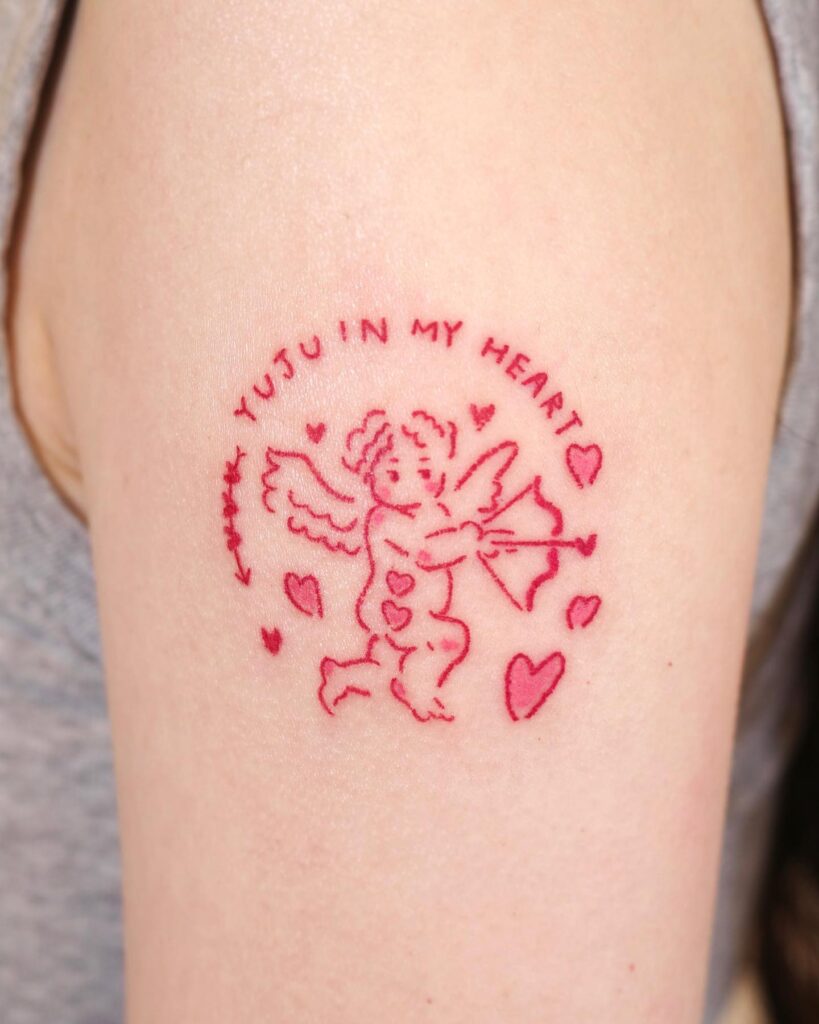 The red ink cherub or baby angel tattoo is inked on the hand or other body parts to symbolize the love and protection of mankind.
People who are in love with someone generally get this tattoo inked on their arms or hands as a symbol of conveying their relationship status.
If you are in a relationship with someone, then you can get this tattoo inked with the name of the person above the cupid.
5] Holding Hands Baby Angels Tattoo Design For Hands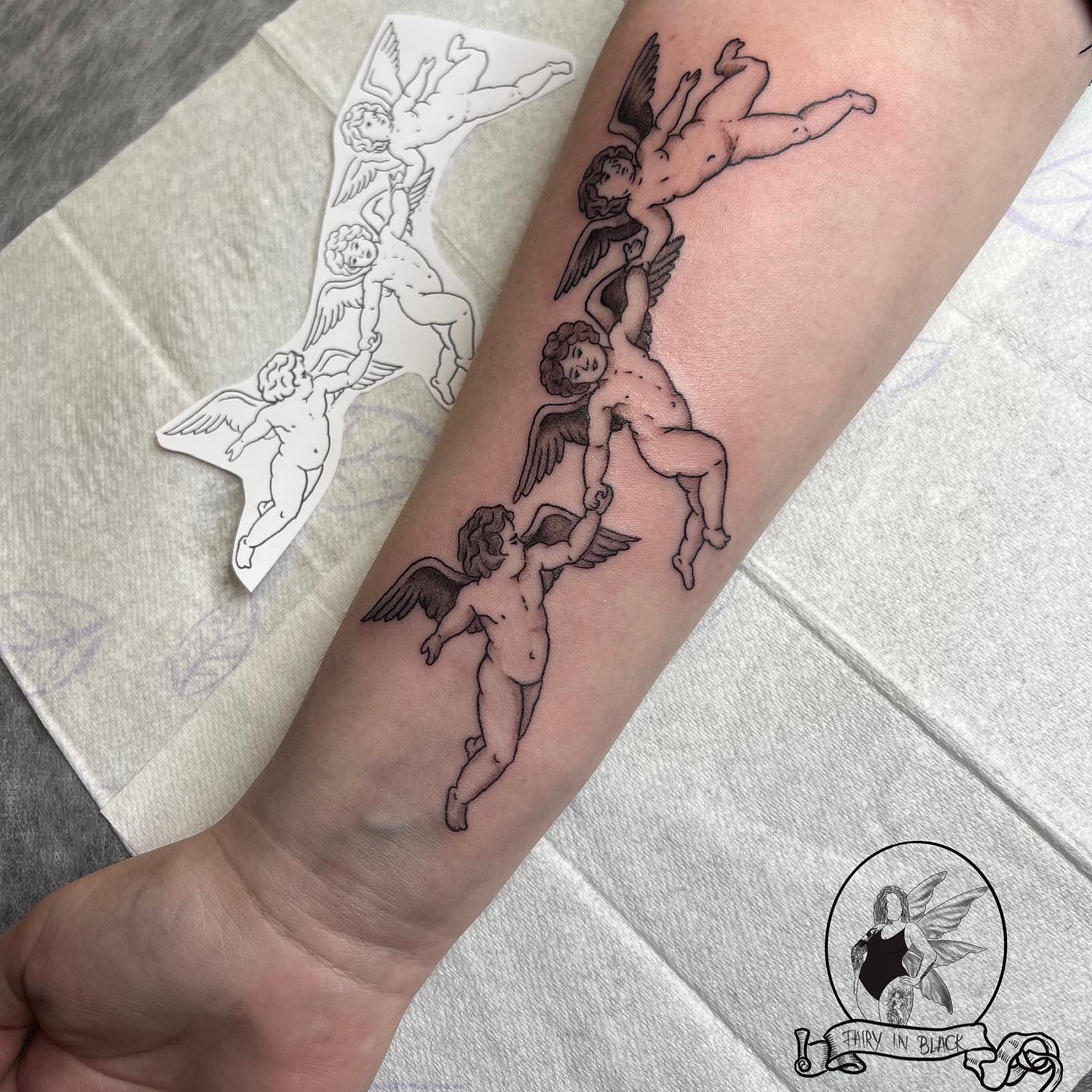 It is said that every human has their own guardian angel to protect them from any harm, and the three angels holding hands tattoo depicts the same.
This is one of the baby angel tattoo designs that are popular among men and women who have just become new parents.
As they guard their child during all phases of life, the angels, too, protect you from every evil.
6] Over The Flower Baby Angel Tattoo Design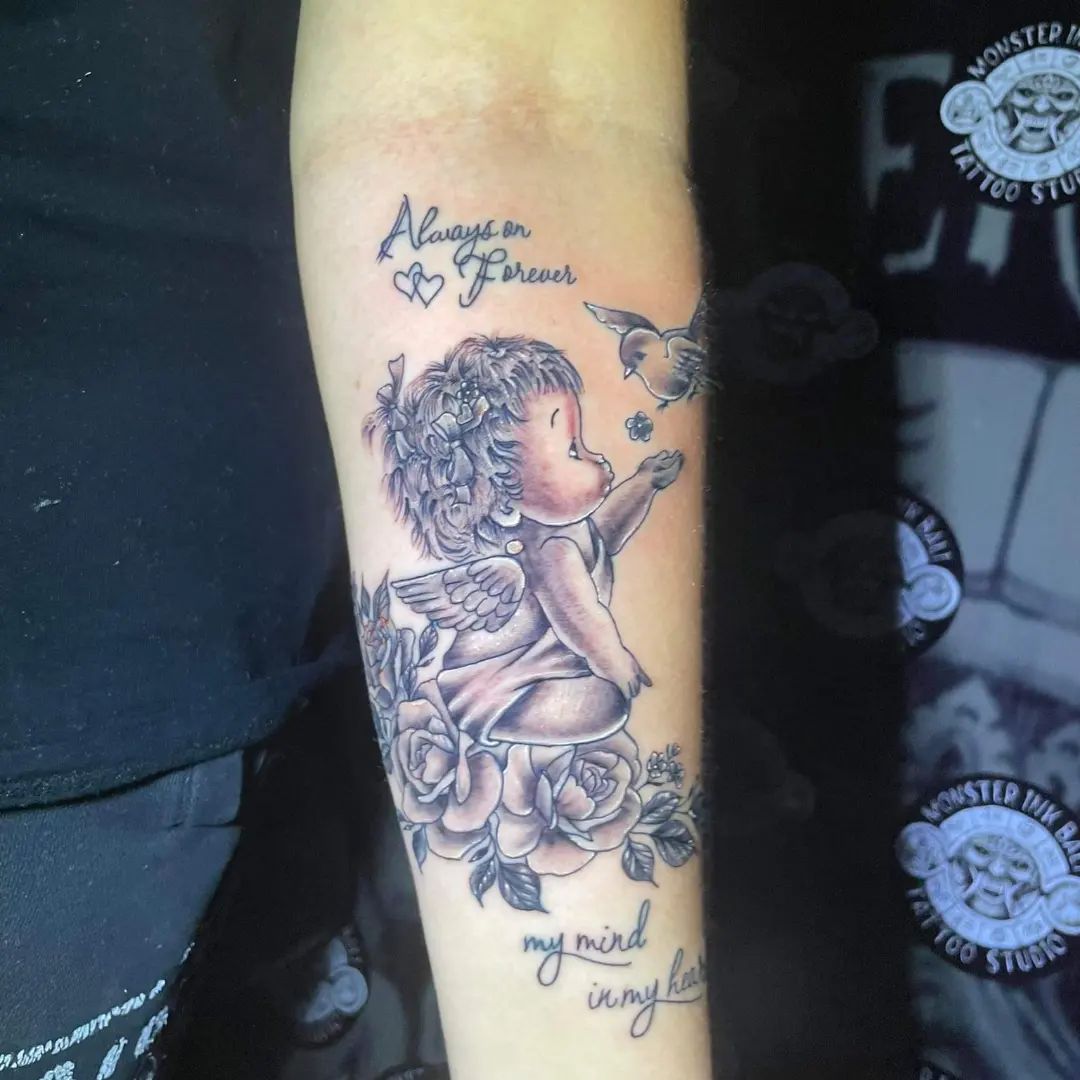 The over-the-flower baby angel tattoo design shows that the person believes in pure and innocent love.
Their love blooms with each passing time, and their partner can feel the beauty and passion of their love every day.
You can pair this tattoo with a quote that you feel is most relatable to you.
7] Devil And Angel Baby Tattoo Designs With Meaning For Back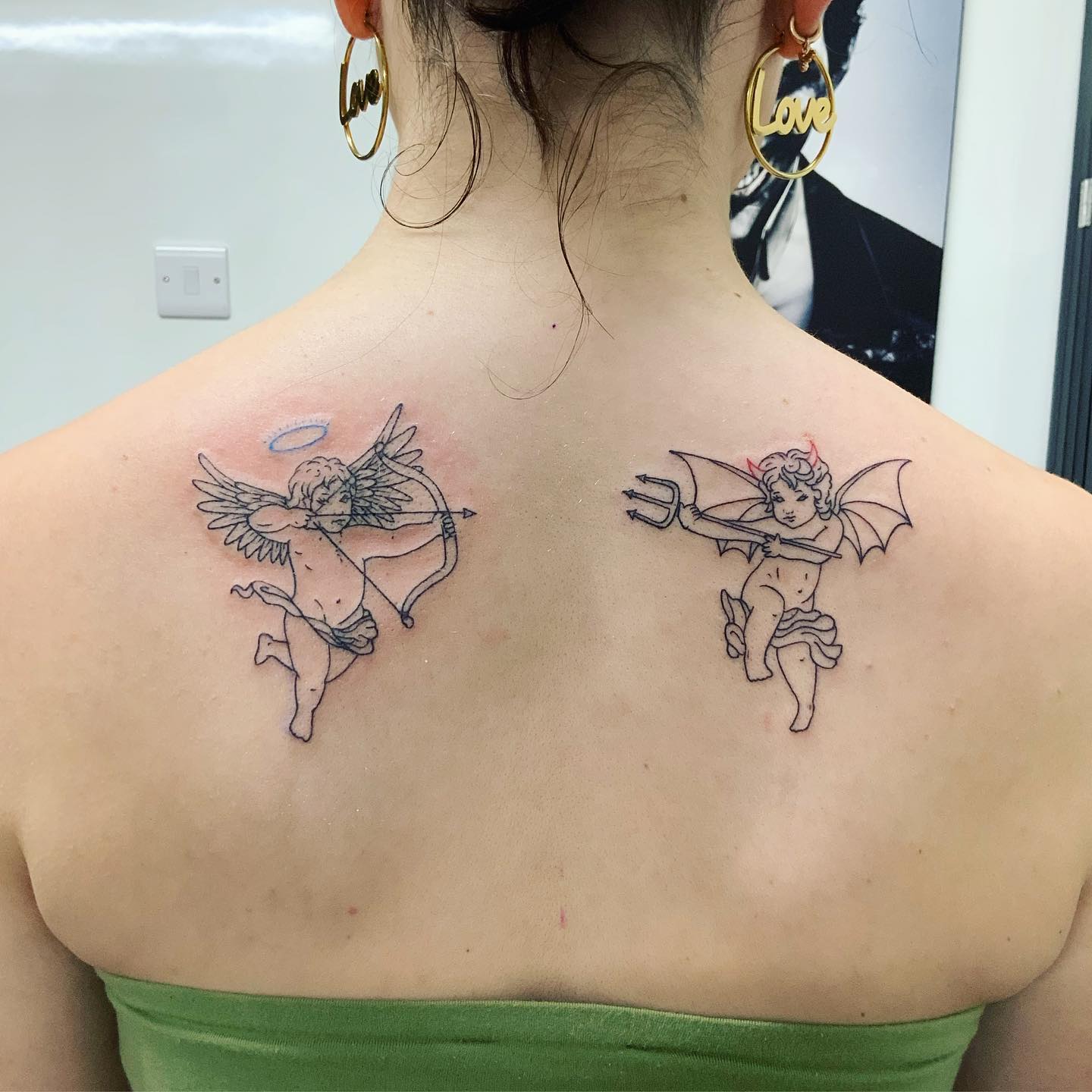 One of the best baby angel tattoo designs that can express your inner dual nature of being an angel and devil at the same time is two different babies in opposite directions.
One side is the devil holding a trident, and the other side is the baby angel with their bow and arrow of love.
You can get this tattoo inked paired or single, as per your preference.
8] Baby Angel On Moon With Flame Tattoo Design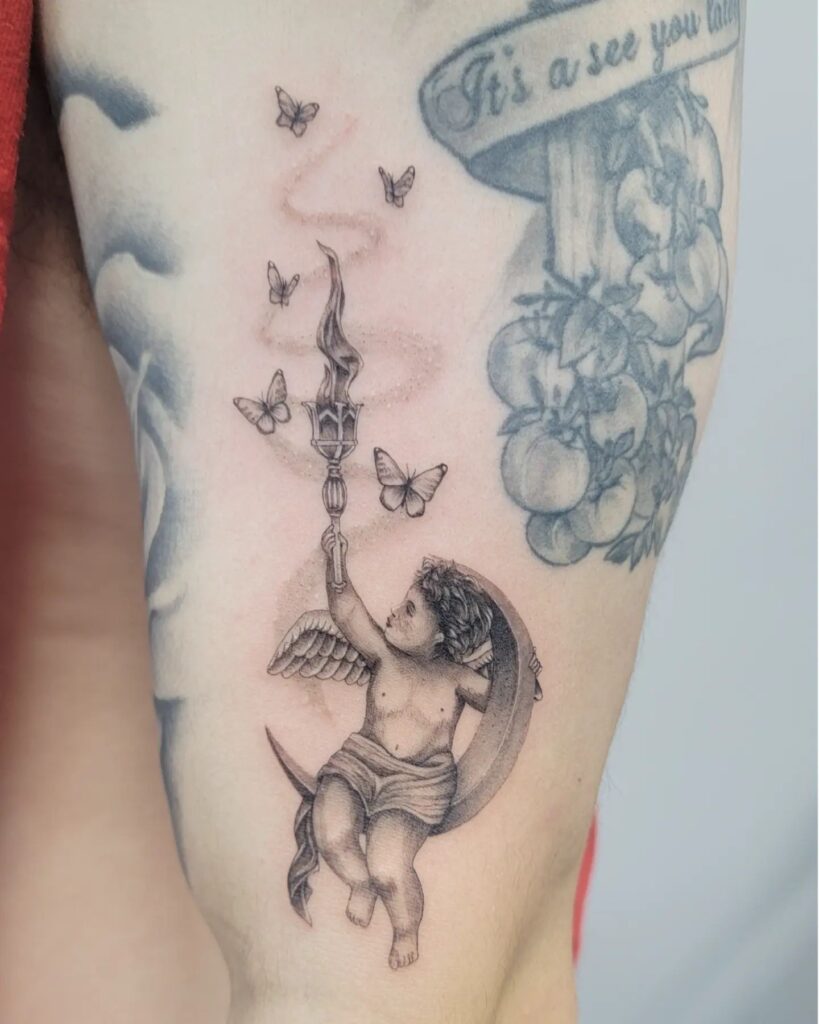 The best way to showcase that your guardian angel protects the flame inside you that keeps you going in this world of struggle is by getting a baby angel tattoo design holding a flame.
You can incorporate other natural elements like the moon and butterflies in the tattoo, which shows your personal growth and change.
9] Praying Baby Angel Tattoo Design For Back Of Neck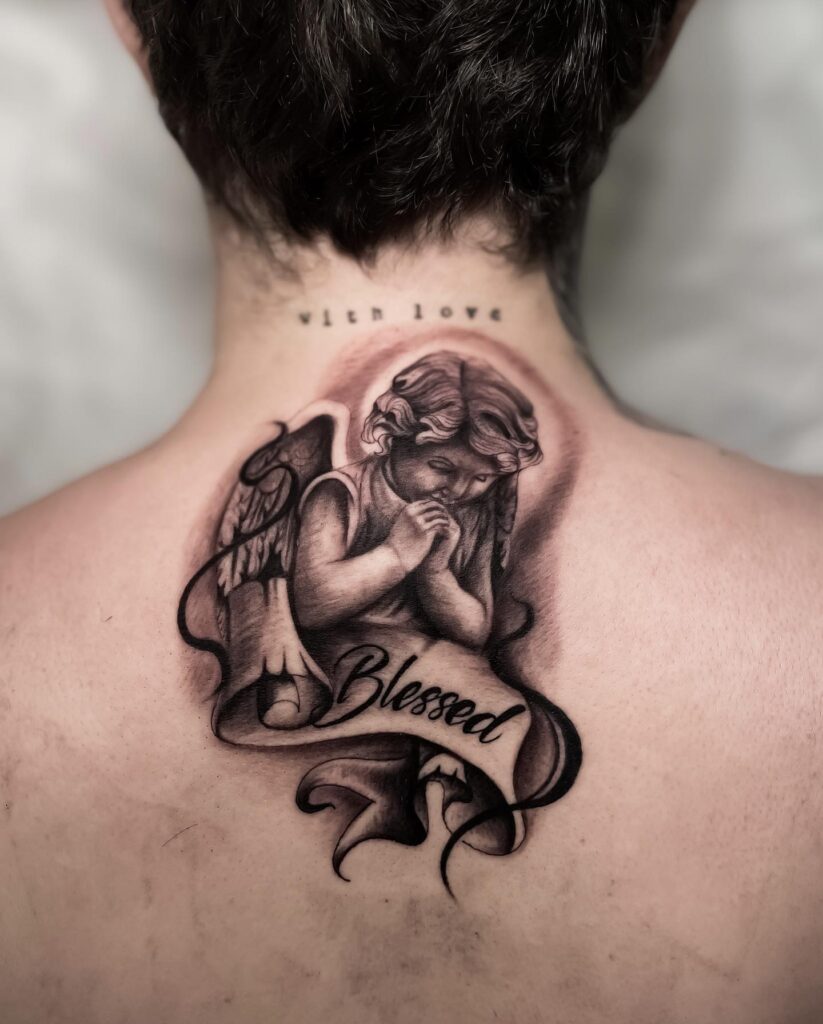 A praying baby angel tattoo is the best way to show your faith, belief, and innocence in God as well as is seen as a memorial of someone young whom you have lost.
This tattoo shows both being blessed as well as remembering your close ones; hence the meaning of this tattoo can differ from individual to individual.
10] Colorful Baby Angel With Gun Tattoo Design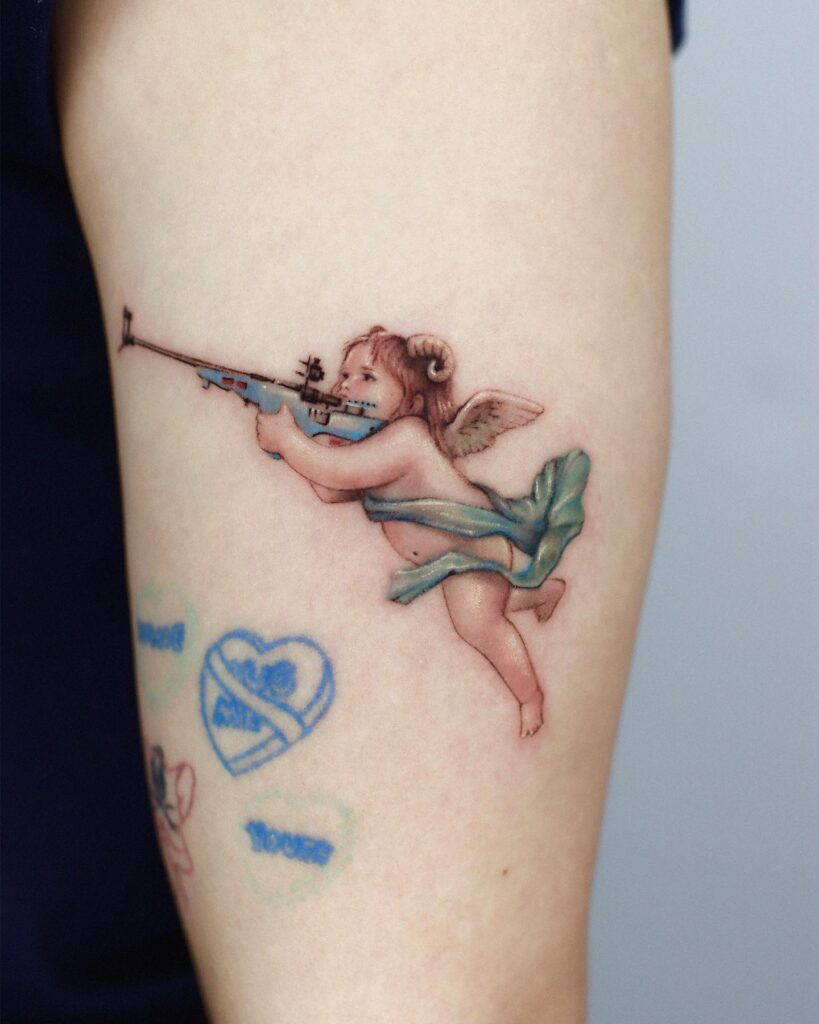 Generally, the cherubs or cupids are seen holding a bow and arrow that has a heart at its end, but this baby angel tattoo is slightly different from the others.
You can see here that cupid is holding a gun which symbolizes rebellion, power, passion, and personal protection.
So, you can get this tattoo inked if you have such a personality.
11] Black Baby Angel Tattoo Design With Skeleton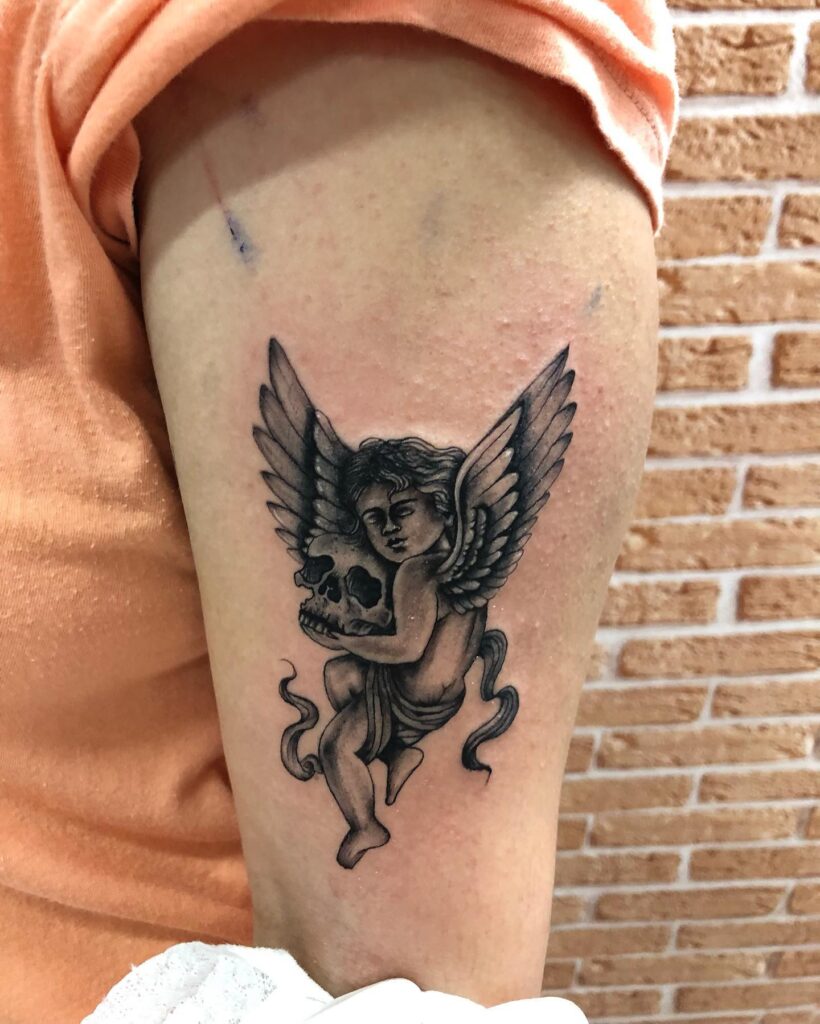 This Baby angel tattoo designs with a skeleton represents different emotions, such as suffering, pain, and sadness, that one goes through in their life.
You can get this tattoo inked if you are going through a dark phase of your life that is filled with negativity, but you know that one day you will find hope and come out of this.
12] Over The Clouds Baby Angel Tattoo Designs For Hands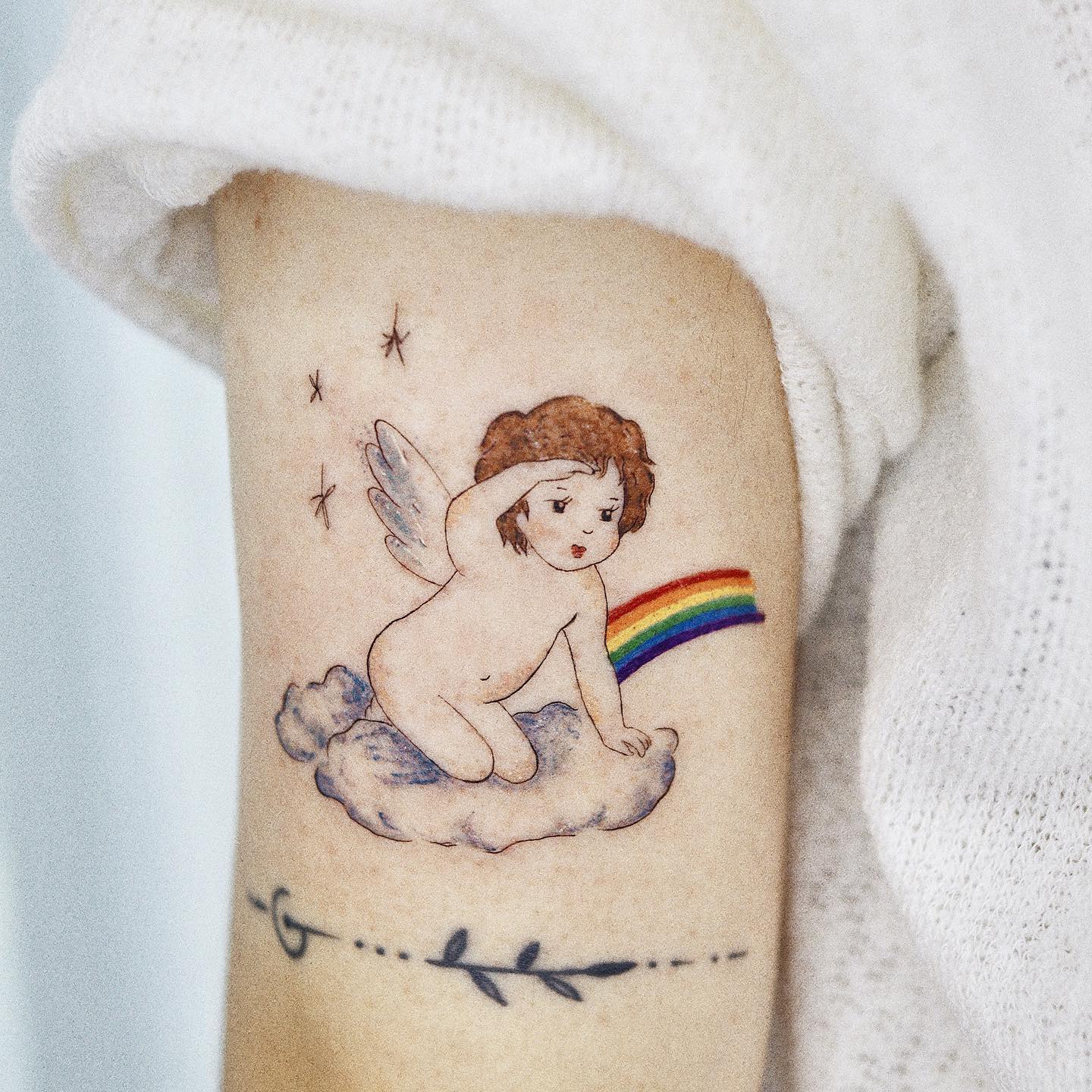 The baby angel over the clouds and rainbow is a symbol of a new beginning after going through a series of misfortunes.
This baby angel tattoo can be used as a reminder to mark your new beginning and say goodbye to all the bad things and misfortunes that happened in the past.
It also marks your unchanging love, desire, faith, and belief that you have in God.
13] Water Spilling Baby Angel Tattoo Design For Arm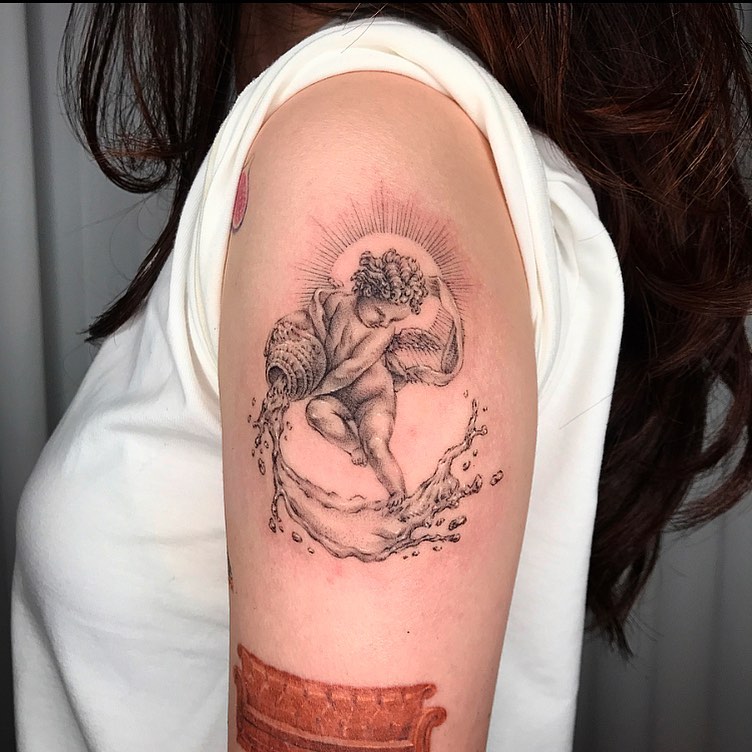 If you are looking for a baby angel tattoo design that you can get inked on your arms, then a water-spilling baby angel with sun rays is the best.
In Christian culture, water is used as a medium to bless a person or to tell the person that he/ she is a special one.
Hence if you want to convey that you are a blessed child of God, then you can get this tattoo inked.
14] Red Ink Double Cupid Baby Angel Tattoo Design For Arms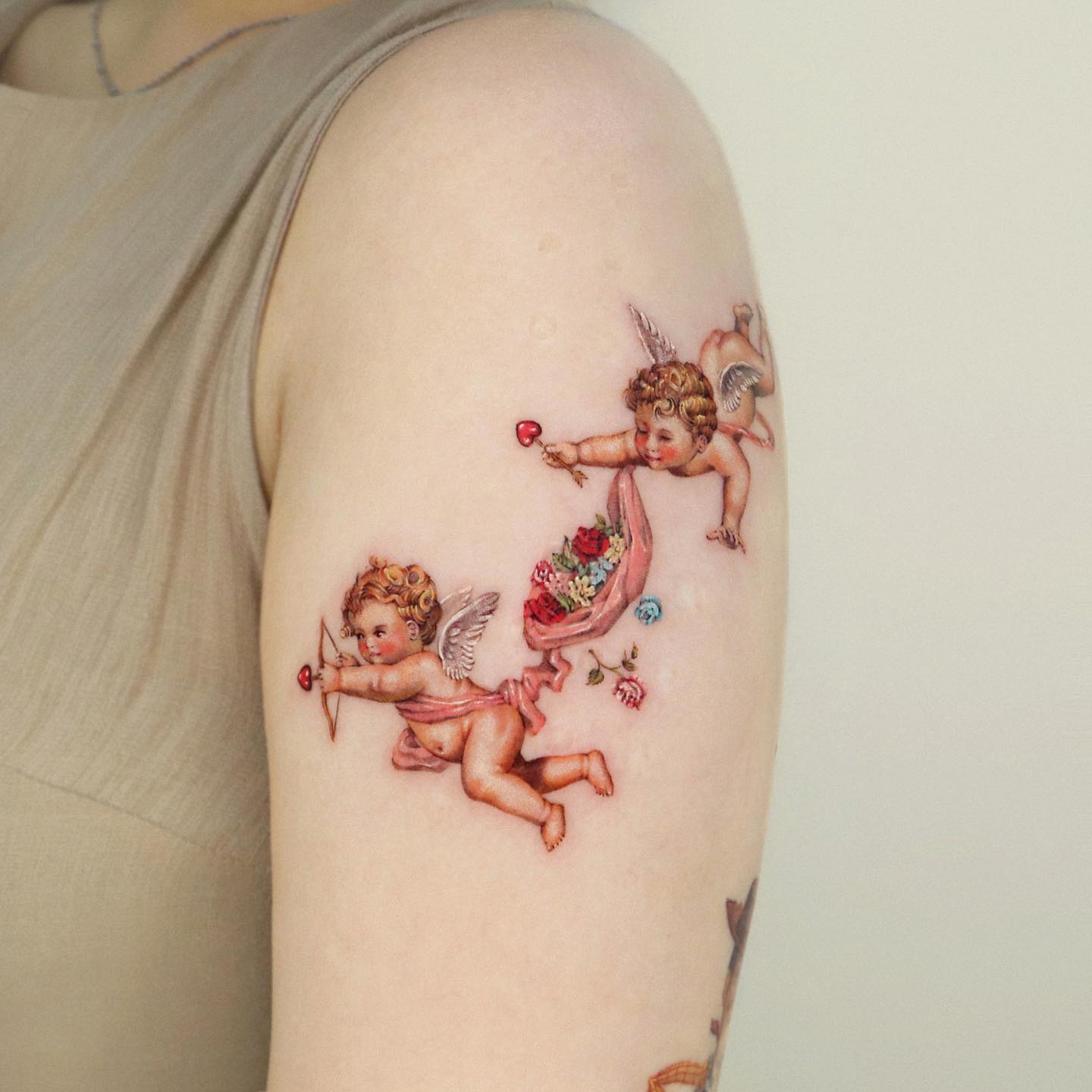 This red ink double cupid tattoo design is the best to get inked if you want to show your true love and desire for someone.
In this baby angel tattoo design, you can opt for multiple colors to fill the layout and make them more attractive and beautiful.
15] Sleeping Baby Angel Tattoo Design With Meaning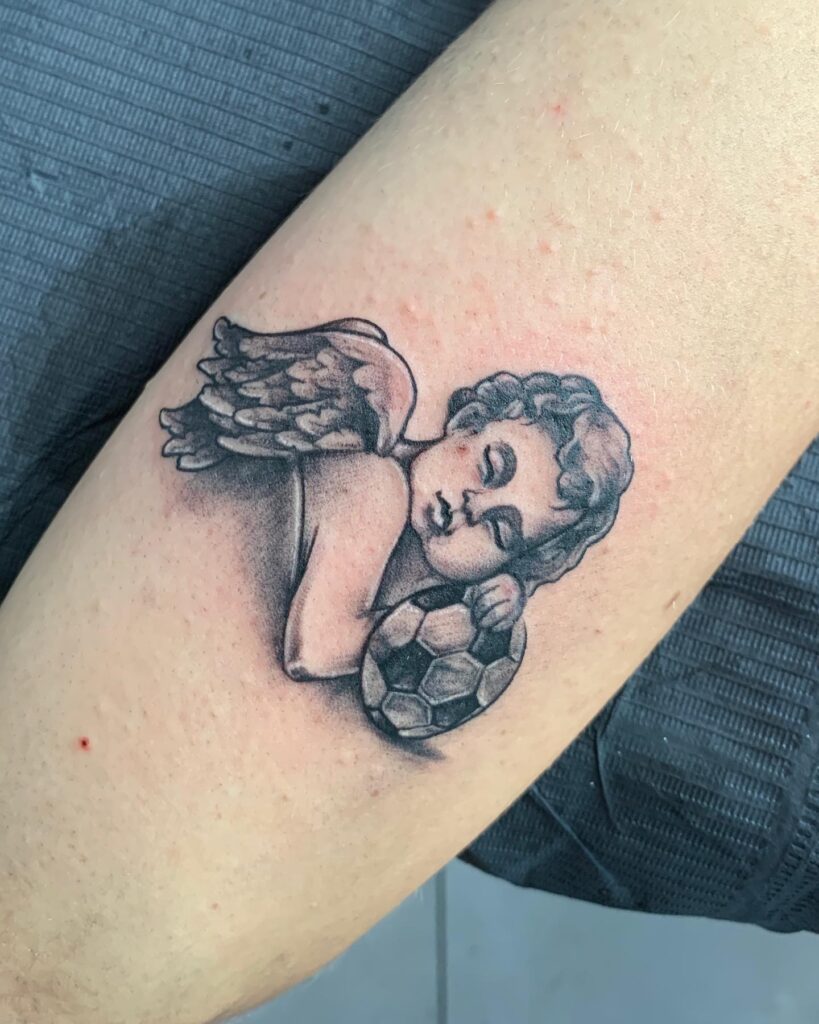 Getting a sleeping baby angel tattoo on your body part marks the memory of someone very close to you, supposedly your friend, family, or child.
It is generally seen as a tribute or memorial tattoo of the person you lost with whom you had a never-ending bond.
You can add the person's date of birth, name, or date of death to make it more meaningful.
FAQ on Baby Angel Tattoo
What Is The Significance Of A Baby Angel Tattoo?
Men and women get a baby angel tattoo inked on their body parts as a symbol of innocence, purity, and protection, as well as a way to represent a loss of a child or a loved one who has passed away.
Where Is A Popular Placement For A Baby Angel Tattoo?
Upper arm
Back
Chest
Wrist
Ankle
What Are Some Popular Design Elements For A Baby Angel Tattoo?
You can include popular elements such as wings, a halo, a bow and arrow, a trumpet, or other heavenly symbols.
Can A Baby Angel Tattoo Be Customized?
The customization of baby angel tattoo designs depends upon the individual's personal style and preferences that can reflect their personality. Some people may pair the tattoo with important dates, names, initials, or other elements like flowers, butterflies, hearts, etc.
How Long Does It Take To Get A Baby Angel Tattoo?
The time duration to get a baby angel tattoo depends upon the size and complexity of the design that you want to get inked. If the design is small and simple, it will take only a few hours to complete, whereas if it is large, it will consume more time and require multiple sessions.
What Are Some Tips To Consider Before Getting A Baby Angel Tattoo Design?
Find a skilled tattoo artist
Consider the best placement for the tattoo
Incorporate personal elements
Add catchy symbols to make the design unique
How Do I Care For My Baby Angel Tattoo After Getting It?
Follow the aftercare instructions provided by the tattoo artist
Keep the tattoo clean and dry
Avoid direct sunlight
Apply a healing ointment or lotion as directed by the artist
Conclusion
When you are getting a baby angel tattoo inked on your body part, you must choose a design carefully because it will remain for a lifetime.
You can take suggestions and recommendations from your tattoo artist and can also go through some Beautiful Angel with Gun tattoo designs so that you can incorporate your personal opinions before getting your tattoo.